After months of waiting, the NFL Draft is finally upon us. As I said in a previous article, this is the most unique draft in recent memory. There will be a run on quarterbacks to start and the remaining teams in the top-20 have a real shot at getting the best player on their draft board.
With that in mind, I reviewed last year's standings to find some teams in great position to make the playoffs next season because of this draft. This excludes teams like Green Bay who will likely make the playoffs because key players will return from injury.
Here's who I found . . .
Indianapolis Colts
The Picks: 1 (6), 2 (4), 2 (5), 2 (17), 3 (3), 4 (4), 5 (3), 6 (4), 7 (3)
I almost didn't put them on the list. There's so much we don't know about Andrew Luck's health. While Jacoby Brissett performed admirably last year, making the playoffs hinges on Luck's return. If he can come back, he should be a great fit in Frank Reich's offense. The other quarterbacks in the AFC South have gotten better since Luck was last healthy, but he's still the best in the division.
Ok, so we assume Luck comes back, now what happens? The Colts need to rectify the sins of the previous regime and put a real offensive line in front of him. Under Chuck Pagano they were running a West Coast system, relying on quick passes. In this system, the only time a quarterback gets hit as much as Luck is if the line is really, really bad. Like seriously terrible. In the photo below there is not one offensive lineman in the shot. How does that even happen?
They also need play-makers on defense. Malik Hooker is a good start, but as with Luck, there are serious health questions. Sitting at pick six in the first round puts them in a perfect position to address both of these needs. They could take Quenton Nelson. He is the best player in the draft and would start immediately at guard.
They will be able to take their pick between Roquan Smith, Bradley Chubb, Denzel Ward, and Minkah Fitzpatrick. Any of these players instantly make their defense better. The key for the Colts though is their three second round picks. With these they could trade back into the first round to snag Mike McGlinchey or any of the other top linemen.
In a dream scenario for Luck, they could draft Nelson at six and then trade for McGlinchey. How often can a team draft an entire half of their starting line and find a rookie tandem with so much chemistry? There's no reason for the Colts to come out of this draft without having drastically upgraded their offensive line and defense. This should put them in a good position to hold their own against Jacksonville, Tennessee, and Houston.
San Francisco 49ers
The Picks: 1 (9), 2 (27), 3 (6), 3 (10), 4 (28), 5 (6), 6 (10), 7(5), 7 (22)
I'm much more confident in the 49ers than the Colts. It looks like they have the quarterback position locked down for a while, so now they can fill in the gaps. Their biggest need right now is in the defensive backfield. The Rams figure to be their biggest rival in the division, so they'll need to slow down that passing attack.
At pick nine, they very well could find themselves picking between Minkah Fitzpatrick and Derwin James. There is an outside chance Denzel Ward will be there too, especially if Tampa Bay trades out of pick seven. Any of these three could come in and start Week One. Personally, I think Fitzpatrick is the best fit for San Francisco.
He's exactly the kind of Swiss Army Knife a team must have to keep up with Sean McVay's offense. He can play man to man on the outside or the slot. When Todd Gurley splits out, Fitzpatrick could cover him too. I keep seeing Fitzpatrick going to San Fran in Mock Drafts. It's one of those picks that almost makes too much sense.
Outside of defensive back, they also need linebackers and wide receivers. If Roquan Smith falls, they would be crazy to pass on him. After Rueben Foster did exactly what people were afraid he would do, they need a new middle linebacker. I can't see this happening, but it shouldn't matter. The second and third rounds are always full of linebackers and receivers. They should be able to walk away with plenty of talent.
Washington Redskins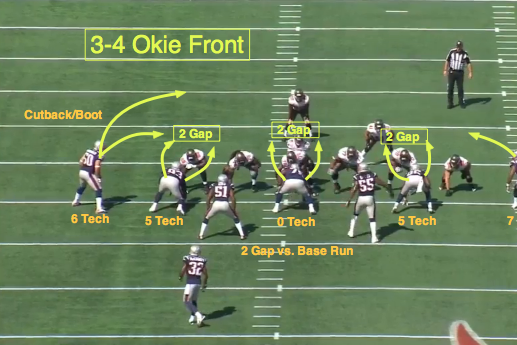 The Picks: 1 (13), 2 (12), 4 (9), 5 (5), 5 (26), 6 (31), 7  (13), 7 (26)
Of the three teams, Washington has the best chance to fill their one glaring gap. They desperately need a nose tackle for their 3-4 front. Nose tackle is perhaps the most underrated position in the entire NFL. There is no glory, just necessity. In order to free up the linebackers, the nose tackle must occupy as much space as possible. The best of them require a double team or hard chip block on every play. This leaves space for the linebackers to read and react.
Sitting at pick 13, the Redskins should have their pick between Da'Ron Payne and Vita Vea. Either one will come in and start Week One. This frees Ziggy Hood and Jonathan Allen to move back to defensive end. This would make the Redskins the only team in the NFC East with a defensive line that could hold it's own against the vaunted rushing attack in Dallas.

In the play above, you can see the nose tackle taken out of the play by weak side guard Zack Martin. This allows the strong side tackle to be on #59 before he can react. As he is the only player that can make the tackle, Tennessee is in trouble before the running back even has the ball in his hands. Philly is the best team in this division, New York could be looking at a rebuild. This leaves Washington and Dallas to fight it out for second place. A fight Washington only wins with an improved run defense.
As for which nose tackle they should take, I would go with Payne. Odds are Vea will make a bigger name for himself. But that will either be for elite play or an elite meltdown. If I were a GM, I would stay away from anyone weighing 347 pounds with the dreaded "work ethic" questions. Payne is not a flashy pick, nor is he a flashy player. He's not a good pass rusher and will, therefore, require a reliable back-up. That should not matter. The one thing he does is the one thing a nose tackle must do: occupy blockers.
He's the right pick and should help Washington return to the playoffs.