When I sat down to do research for my article on "number one" receivers, I came across Spotrac, which provides the payroll of each NFL franchise. As I am an HR Generalist by day, I find this stuff fascinating. Since I'm used to most people running away when I discuss my day job, please know I'm not offended if you don't want to read an article about payroll.
For those of you that are left reading, let's take a look at the offensive positions NFL franchises have placed the most value upon. For each position, I've provided the average cap hit per player as well as the largest cap hit for an individual player. It's important to note NFL contracts have so many bonuses and out-clauses, the cap hit is the only semi-solid number we have to work with. I'll also discuss why the number is so high (or low) and what this tells us about the future of the game. Next week, I'll post a follow-up on the highest and lowest paid defensive positions.
Highest Paid Positions
Left Tackle: $6,624,676
Highest Cap Hit for 2018: Tyron Smith, $17,545,000
Quarterback will always be the most important position in football. Having a franchise quarterback is the priority for every team. Just as important, however, is ensuring said quarterback doesn't get blindsided on a regular basis. Never forget, even the greatest quarterbacks are decidedly ineffective if they're on the ground, or, as is the fear of all GM's, seriously injured. Hence why left tackles are the highest paid players on offense. Their job is to match up with the defenses' best pass rusher and keep them away from the quarterback.
Doing so requires elite size, strength, speed, and most importantly, footwork. It is very rare to find an offensive lineman with all four attributes. Such a high average cap hit has just as much to do with quantity as the salaries themselves. The number is so high because there are not a lot of pure left tackles. You'd be surprised how many guards are former left tackles who lacked the footwork to stay there or how many right tackles are former left tackles that lacked the speed to stay there.
Quarterback: $5,030,463
Highest Cap Hit for 2018: Jimmy Garoppolo, $37,000,000
Well, who didn't see this coming? I would have thought the number would be higher. Digging into the data, the explanation is rather simple. There is an astronomical difference between starting quarterbacks and their backups. This pay differential is reflective of the skill differential. Which, when viewed through that lens, makes perfect sense. All offenses revolve around the quarterback. There are very few are up to the challenge, so they are paid a hefty salary.
The back-ups, on the other hand, are a vastly different demographic. They are a mixture of developing talents from the later rounds, veterans that can play in a pinch, and guys that are there to mentor younger players. Needless to say, there are far more of these guys. Accordingly, their salaries are low. What's intriguing here is how many teams are carrying those low round talents from small schools and college teams heavy on the spread. This indicates more and more spread concepts are coming to the NFL. It is also indicates more and more franchises realize these guys need years to develop.
Right Tackle: $3,154,705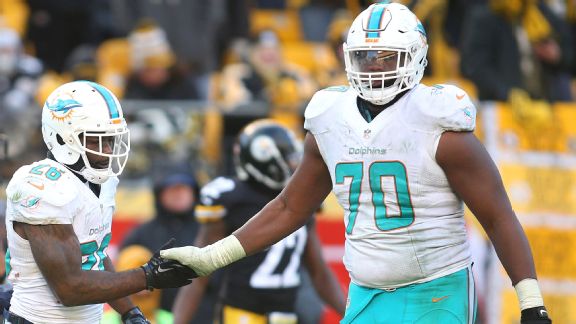 Highest Cap Hit for 2018: Ja'Wuan James, $9,341,000
Of all the positions on this list, this one surprised me the most. I would have thought it would be receiver. Even if I'd been told it was another position on the line, I would have guessed guard. But no, I was wrong, it is right tackle. Ok, I thought, it's probably because teams are stashing developing left tackles at right tackle and that's driving the salary up. Nope. The highest paid players here are indeed right tackles. As to why, I can only offer a theory.
My guess is that as the league has become more and more pass centered, defenses have begun hoarding as many rushers as possible. In order to combat that, offenses now must invest in both tackle positions. The best pass rushers still primarily attack the blind-side, but that does not mean their counter parts are any less dangerous. As I thought about it, it made more sense. Just imagine, for a second, playing Denver next season. Von Miller and Bradley Chubb are going to move around. Both are equally dangerous. Any quarterback would feel infinitely safer with two good tackles.
Lowest Paid Positions 
Fullback: $867,946
Highest Cap Hit for 2018: Kyle Juszczyk, $4,450,000
The rise of pass-first attacks, spread formations, and zone blocking have been chipping away at the fullback position for years. In many ways this makes the classic fullback the ultimate microcosm of the NFL's evolution. In the 60's and 70's, they were the inside runners. By the 80's they were primarily blockers and occasional receivers. By the 90's, they were just blockers. Now they are only used by a handful of teams. Most teams play a running back rotation. The LaGarret Blount's of the NFL have taken over as the "inside" runners.
More important to their demise, however, is the rise of zone blocking. In the older blocking schemes, the linemen blocked the defenders in front of them. As the hole opened, it was the fullback's job to lead the running back through the hole. The linebackers were essentially allowed to run free and the fullback cleared them out of the way. Now most teams don't pick a "hole" anymore. They pick an area, focus all their blockers there, and let the running back read where he will run. Don't worry; I'm going to expand on this in a later article!
Running back: $1,266,926
Highest Cap Hit for 2018: Le'Veon Bell, $14,544,000 
The rotation of running backs I mentioned earlier and the frequency running backs are injured explain why their average pay is so low. This off-season running backs ended up signing some very conservative deals. It all makes sense. Franchises have long given up trying to find the back that can "do it all" and now try to find two or three versatile backs. This is why it is so rare to see a running back taken, as Saquon Barkley was, in the first round. Most of them fall to the second and third rounds. No one in the NFL wants to end up with a Trent Richardson.
Obviously this is another indication NFL football is a different game. Franchises have also learned from the past. As I mentioned in other articles, the Shaun Alexander signing was the nail in the coffin for running backs. He accelerated a trend that had been growing since Mike Shanahan started conjuring 1,000 yards backs out of thin air.
Tight End: $1,478,673

Highest Cap Hit for 2018: Rob Gronkowski, $10,906,250
Tight ends, as with many other positions, are weighed down by a huge discrepancy in salaries at the top and salaries at the bottom. While the Gronks get all the headlines, there are plenty of other guys doing the dirty work. As the fullback continues to fade away, the extra-blocking role is being filled by tight ends. Each team carries at least three. As with running backs, franchises have long given up trying to find the "perfect" guy and are relying on depth.
Think of Gronk. Can he block? Yes. With his injuries, should he be? Probably not. Therefore, the Patriots need to find someone who can. Maybe that other player won't be as effective in the passing game, but who cares? That's not what they are there for.