I'd like to continue my HR driven coverage of every team's payroll by looking at the defensive players. As with the last article, I won't be offended if you don't want to read about payroll. This time, to spice it up a bit, I'll begin to introduce a theory of defensive evolution I'll be exploring in later articles.
As I looked into the defensive payrolls and the highlights from last season, I noticed a shift in each defense. More and more teams are relying on their "sub-packages". It makes sense, it's a passing league, the defenses must adjust. What's interesting is how that need has affected the market with traditional priority positions being replaced in the market hierarchy. Based on what I've seen, I would speculate that within the next five years the nickel (4-2-5 or 3-3-5) will become the primary base defense in the NFL.
Before I expand on that theory later, here's part of the evidence that lead me to that conclusion . . .
Three Highest Paid Defensive Positions
Free Safety: $3,573,758

Highest Paid Player: Eric Berry, $13,000,000
NFL defenses are in no way expected to stop every pass. They aren't even expected to stop most passes. The passes they have to stop, per their coaches' and fans' expectations, are the deep bombs. A defense that gives up those passes (*cough the 2017 Browns cough*), is not going to win many games. The fans will start to boo and the opposing offense will shred them. Not just with the vertical routes, but with all the underneath routes that exploit the defense's need to drop back in desperation.
In order to stop this, teams need a good free safety. They control the middle of the field (or "centerfield" as commentators call it) and provide support on elite receivers. Most turnovers come either from the free safeties themselves or from their mere peripheral presence. As teams use their sub-packages more, they can play more man coverage. This means the free safeties' ability to corral receivers that break free is all the more vital. And, as a result, places far more market value on the position.
Outside Linebacker: $2,463,849

Highest Paid Player: Justin Houston, $20,600,000
Just as critical to defending the pass in the air, is trying to prevent the pass from even being thrown. Ever since Bill Parcells unleashed Lawrence Taylor on the NFL, 3-4 rush linebackers have dominated the annual sack leader-board. Those with the versatility to also play on the line are highly sought after every draft. So, their presence on the list was not all that surprising.
What was surprising here was how many 4-3 outside linebackers were ranked pretty high on the list. This was one of the first indicators that the nickel was taking over. Outside linebackers who can defend against the run and excel in pass defense are a very rare commodity. Tight ends and running backs keep getting faster, so teams are relieved to find linebackers who can keep up with them. It helps them avoid being exploited by the running game when they have a plethora of defensive backs on the field.
Strong Safety: $2,361,405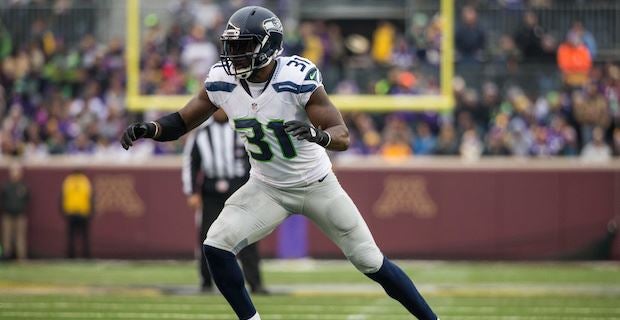 Highest Paid Player: Kam Chancellor, $9,581,250
It's fitting that Kam Chancellor is the highest paid strong safety. He's the reason the position's salaries are on the rise. Chancellor fell in the draft because teams thought he was "too big to play safety, too small to play linebacker". There was a time when this label was a death sentence for a player's career. They either would end up as special teams players or be required to pack on the pounds and move to linebacker.
The Seahawks didn't care and gave Chancellor a shot. His ability to play a hybrid role is what launched the Legion of Boom Era. He helped against the run, blitzed, and made any receiver crossing the middle regret it. While many teams use an extra corner in their nickel defense, as is tradition, some others have begun exploring a hybrid of their own. This season Derwin James and Jabril Peppers look to fill similar roles. It will be very interesting to see what LA and Cleveland has planned for them. Just because they, like Chancellor, do not excel playing coverage in space does not mean cannot be valuable assets to their defenses.
Three Lowest Paid Defensive Positions
Middle Linebacker: $1,858,735
Highest Paid Player: Bobby Wagner, $13,600,000
I highly doubt any fan in the 1970's would ever have guessed a day would come where middle linebackers were not the most important players on defense. But, as the league has become more passing and speed centered, it has become difficult to find three down middle linebackers. Those in the traditional mold of Dick Butkus and Jack Ham are subbed out on passing downs. It's only the fastest linebackers, like Bobby Wagner, that can stay on the field.
From a market perspective, this means the fast middle linebacker remains a premium position. The overall salary number falls because there is no incentive to heavily invest in depth at the position. Instead it makes more sense to pay one middle linebacker and spread the remaining money around to solidify outside linebacker depth. 4-3 teams will sub out the middle linebacker and let their outside backers handle nickel coverage. 3-4 teams may keep them on the field, but must invest a disproportionate amount of the budget in rush linebackers.
Defensive Tackle: $1,932,793
Highest Paid Player: Fletcher Cox, $17,900,000
Similar to middle linebackers, defensive tackles are undergoing a change. All defenses need a run stuffer in the middle of the line. Look at how much Washington struggled last season without a legit nose tackle. What will be interesting is to see how to rise of the RPO's and spread running attacks affect this need. Traditional football logic says, "they who control the middle of the field, control the game". Is this still true as Tyreek Hill speeds around the corner or Mark Ingram makes a cut off of a stretch hand-off? That's up for serious debate.
Then we come to passing situations where it's easier for a team to kick their biggest defensive end to tackle on passing downs. Again we've found a position that while important now, is losing some value. Everything on offense is about speed, defenses must adjust. That means smaller, quicker tackles are valued higher than the hulking tackles of old. Additionally, there is little incentive to invest heavily in the position when defensive ends and outside linebackers can be hoarded and used on the line in passing situations. Two run stuffers seems sufficient for now. Who knows if that will be true in five years.
Corner-back: $1,966,534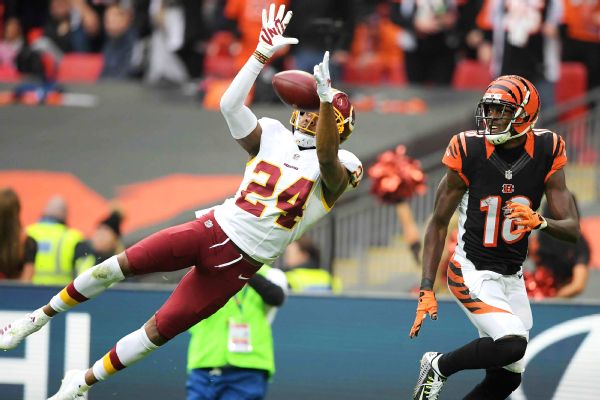 Highest Paid Player: Josh Norman, $16,937,500
Shocked to find corners so low? As it turns out, this is a statistical out-lier. The number is so low not because the market does not value corners; it is so low because of market saturation. That is to say, simply, there are a lot of freakin' corners in the NFL. Seriously, take a look at how many are drafted in the fifth, sixth, and seventh rounds. It almost seems like every time a team fills out their draft board they say, "OK, we better grab three more corners just to be safe".
There is perhaps no better microcosm for the corner position than the Green Bay Packers' 2018 draft. They got the second best cover corner in Jaire Alexander and then drafted the fastest corner, Josh Jackson, later on. Both are very different players, but both fill a need all teams have. They need the number one to press the best receiver on the opposing side. Then they need another corner they can move all over the formation looking for turnovers. They also need back-ups for each. What other position requires this much depth and, by extension, such a heavy investment?