In a just universe, the Jacksonville Jaguars probably should have been playing in Super Bowl 52 instead of the Patriots.
I don't want to get into specifics, but…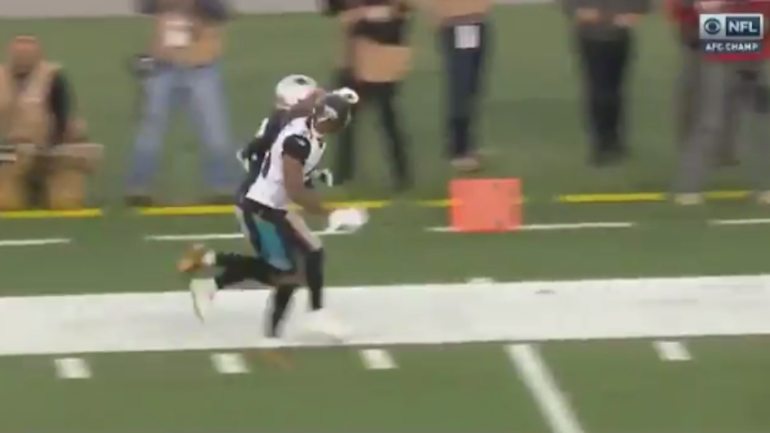 …this was good defense, not pass interference…
…Myles Jack was not down.
It was so painfully obvious, that known Patriots supporter Donald J. Trump had to run away from the truth when confronted head on:
Make the @Jaguars great again pic.twitter.com/6wlowwWXTi

— Johnny (@HomeMalone) April 29, 2018
If they had won that game, who knows how they would have fared against the Eagles. I have a feeling that Doug Marrone wouldn't have benched his best cornerback, and I sure as fuck know Blake Bortles wouldn't have butter-fingered that pass, so maybe that would have been enough to tip the scales, who knows?
This year, I'm not so bullish. The Jags are the classic regression team that you see just about every year in the NFL — that team that over-performs one year and then crashes back to earth the next.
Last year, it was the Raiders and he Panthers the year before. I hate to say it, but I think the Jags fit the mold.
Things are already off to an auspicious start in the preseason. Cornerback Jalen Ramsey and defensive end Dante Fowler were just suspended for one (preseason) week after getting into a fight during practice and then going on an anti-media tirade afterwards.
Fowler, an amateur theologian, decided to weigh in on his punishment:
Well, Dante, by that logic a lot of people also hated Judas Iscariot as well. And a lot of people hate you because you were the third overall pick in 2015 and have thoroughly been outperformed by third-rounder Yannick Ngakoue the last two years. Just a guess.
Things seem like they might be unraveling a bit for the Jags, so I'm going to explain why they'll take a step back in 2018.
Exhibit A: Blake Bortles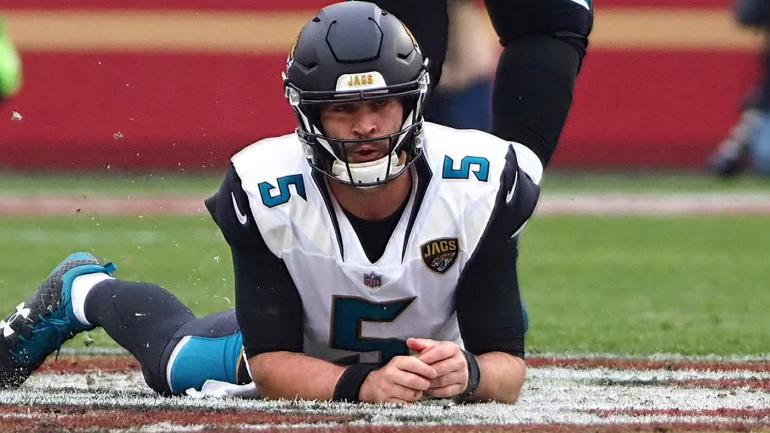 Consistent teams are able to stay on top because of consistency at the quarterback position. Like a journeyman construction worker ripping cigs during breaks, Bortles can get the job done from time to time, but I don't see him as a playoff participant every year.
Last year, Bortles actually elevated his game significantly in the playoffs, going from an 84.7 passer rating in the regular season to 91.0 in the Jags' three-game playoff run. I'm not so sure that's a sustainable number for him, though.
I have more confidence in Bortles than the average person, but I still don't see him as a guy who's on top of his game year in and year out. By the way, Paxton Lynch could take a few pointers from Blake on how to cry on the sideline with some dignity.
Exhibit B: Powder Keg
That's a tough look for any grown man, let alone one of the best corners in football… and someone who's supposed to be the leader of the best defense in the NFL.
Sacksonville's D has a lot of personalities and it feels like they're wired to explode. When you're already having incidents in the preseason, that's a bad omen for the sixteen (or more) meaningful games on the horizon.
Ramsey is one of the best there is as he enters year three, but man oh man does he love to put his foot in his mouth. There was the recent incident when he tweeted this to the local media:
Call me old fashioned, but I don't think it's the best idea to declare war on people you're going to be seeing every day and talking to at mandatory press conferences.
There was also this big fuck up when he slid into a girl's DMs only to be reminded that he, ya know, has a girlfriend and a newborn daughter.
It's not hard to imagine some type of falling out in the locker room when some of your players are as crazy as they are talented.
Exhibit C: AFC South Competition
Maybe the biggest reason the Jags are going to have tougher time in 2018 is the competition they'll face in the division.
Andrew Luck is finally back from his hiatus, DeShaun Watson is ready to sling some more bombs, and Marcus Mariota might actually start throwing touchdowns to other people rather than just himself.
Regardless of what anyone says about the Colts, I think any team led by Andrew Luck (if healthy) is in playoff contention. The Texans are a year removed from a playoff win, and the Titans have a chance to be better led by Mike Vrabel and adding Malcolm Butler and Dion Lewis from the Pats.
Any way you look at it, the AFC South won't be a cake walk for the Jags. If they do win it, it'll be hard fought.