Over the course of the past eight years or so, no team has gotten their nuts hugged by the national media without deserving it quite like the Chargers.
Over those eight years, they've made the playoffs precisely one time, in 2013, when they beat the Cincinnati Bengals in the Wild Card Round and then got bounced by the Broncos in Denver a week later.
And still, it seems like every goddamn year the Bolts are penciled into double-digit wins and a playoff appearance. I suppose it makes sense: they've had a good quarterback every year, some players on defense, and a lot of firepower in their receiving corps. And every year they disappoint. Constant mediocrity. It's like clockwork.
Cut to… Philip Rivers driving late in the game and throwing a pick except it's not his fault because he doesn't have any help except he does (Gates, Allen, Henry, Benjamin, Gordon — all exceptional players on offense). Forgive me that I don't think Phil Rivers is a Hall-of-Fame quarterback who's been dragging the corpse of an offense around his whole career like Elway in '89. Nah, I will never listen to excuses for a quarterback that couldn't win a playoff game with L.T., Michael Turner, Darren Sproles, Antonio Gates, Malcom Floyd, and Vincent Jackson all on the same team.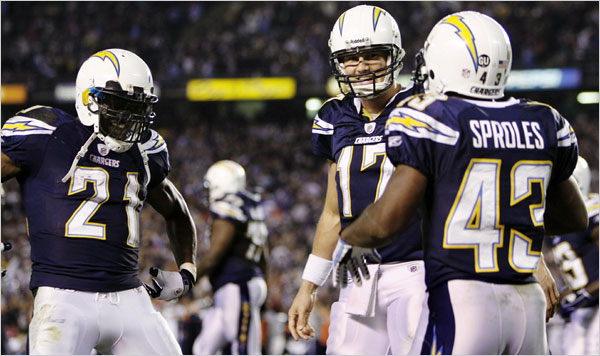 Like a much dumber Groundhog Day, this offseason has been no different. It seems like every prognosticator in the take business has agreed that the Chargers are good this year for some reason. Uh, because they went 9-7 last year against the fifth easiest schedule in the NFL. Awesome work, fellas.
Here's a few examples of some good ol' fashioned L.A. summer loving:
"After a season of upheaval, maintaining continuity this offseason should help establish the Los Angeles Chargers as the favorite in the AFC West, with rest of the division going through significant changes." -Eric D. Williams, ESPN
"Despite losing Hunter Henry — who is, no doubt, very good at what he does — the Bolts are going to the playoffs this season." -Adam Rank, NFL
"So while the Chargers just might be jinxed based on the fact they've already lost tight end Hunter Henry to a torn ACL, they still might actually be the under-the-radar favorites to win their first AFC West title this decade." -Brad Gagnon, The Comeback
Vegas is getting in on the action, too: the Westgate Superbook has the Chargers as +150 favorites to win the AFC West.
For the love of God, even John Elway gave his blessing to the 2018 Chargers, calling them the "team to beat" this season.
Knowing Elway, I think this is probably some mind-fuckery or possibly a very elaborate reverse jinx. No one plays 4-D chess quite like him.
There might be a little backtracking now that the Chargers lost their starting tight end Hunter Henry to an ACL tear during OTAs. That really does suck, no matter how much I enjoy making fun of the Chargers, but one would assume that losing one pretty good tight end shouldn't keep a team of destiny out of the playoffs. They're going from Henry to Virgil Green, who I think will put up numbers with Rivers.
None of this is to say that the Chargers aren't a good-looking team on paper. They are. They're hot as hell. But they are every year. And it's lazy to crown them the champions of a division with the Chiefs (who, by the way, have won it the last two years), the Raiders, and a seemingly-improved Broncos team. To bank on this band of perpetual underachievers is to ignore history, thus falling into a trap. It is invading Russia in the winter. It is foolhardy.
So if you want to bet on black when it's always red and always will be red for the foreseeable future, be my guest. Just don't say I didn't warn ya.