Even though the rookie quarterbacks will dominate the headlines during training camp, none of them seem likely to start Week One. As the endless rookie coverage drones on, don't forget the other young quarterbacks. There are plenty of intriguing story-lines ranging from Carson Wentz's return to last year's Super Bowl winner all the way down to Brent Hundley's desperate attempt to avoid the CFL.
In order to tell these stories, I've divided the sixteen 25 and under quarterbacks into four tiers. For each quarterback, I'll tackle three questions: what were the expectations coming into the league, how have they progressed so far, and what should the future hold?
1. Carson Wentz
What were the expectations coming into the league?
I honestly don't know if I'll ever forgive the Browns for passing on Carson Wentz. Granted it's the Browns, so he wouldn't be an MVP candidate if they had because, of course, they would've screwed it up. The logic, as I recall, for passing on Wentz was that he was too much of an unknown. Of course, it was for many cliche reasons: he was a late bloomer in high school, he played in the FCS, and he "needed a lot of time to develop".
It's easy to sit here now and laugh at the scouts who voiced those concerns. I mean, come on, we all know how easy it is to do that. In the case of Wentz, these were legitimate concerns, as they are any time a player is drafted out of a smaller school. Just because Big Ben, Jimmy G, and now Wentz have shown concerns were irrelevant, they are exceptions, not the rule. Remember Colt Brennan, the holder of many NCAA passing records? History has shown us those same concerns were plenty justified when he entered the draft.
So, needless to say, there was plenty of historically informed doubt when Wentz was drafted. There is also plenty of reason to believe his young career would have played out differently had he been drafted by a different team. Fortunately for Wentz, such speculation is now unnecessary since he ended up on the perfect team with the perfect coach.
How has he progressed so far?
Doug Pederson was the quarterback at Louisiana-Monroe all the way back when it was known as Northeast Louisiana University. No coach could better understand how to help a quarterback adapt from a small college program to the NFL. As a long time player and coach for Andy Ried, he also knew how to tweak a West Coast attack.
Pederson did so by designing his offense around what Wentz did well as opposed to tweaking his skill-set to fit a predetermined offensive attack. He used Wentz's ability to run to aid the rushing attack, his accuracy to fuel plenty of catch and run gains, and his ability to manipulate the pocket to take vertical shots. In his second year, he combined all these into the RPO attack I won't shut up about. All of a sudden the quarterback with all the question marks was an MVP candidate up until his ACL injury.
What should the future hold?
If he can return from his knee injury, he'll be in the MVP race this season. As a corollary, the Eagles will be Super Bowl contenders once more. The trouble is that "if". It's always scary when a young player injures their ACL. The good news for Wentz is that the Eagles offense found magic with their RPO attack and he should not be asked to run much this season. One of the more underrated moves of the off-season was adding Mike Wallace to the receiving corp. Even though it seems like he's been around forever, Wallace remains one of the more dangerous vertical threats in the NFL.
This added vertical threat will help Wentz get even better. The Eagles beat the Patriots in the Super Bowl by baiting them into coming up on the RPO's. The adjustment for future opposing defenses is to shift their coverage to the RPO side of the field. Having Wallace on the weak-side now forces them to face an impossible choice. Do they let the Eagles chip away at them with RPO's or do they leave Mike Wallace in single coverage?
2. Jared Goff
What were the expectations coming into the league?
Coming from an Air Raid system, there were the usual questions. Can he throw from under center? What about the "NFL throws"? Doesn't he remind you of *insert one the 100 Air Raid quarterbacks that didn't pan out here*? Looking back on his tape, these were legitimate questions. He did struggle at times with his accuracy and never took snaps under center.
What was often overlooked with Goff was that even though the offense required him to throw deep far more than an NFL offense would, he was completing those passes at an astounding rate. Plenty of other Air Raid quarterback produce gaudy touchdown and yard stats, few complete over 40 percent of their deep balls. The tape shows that these completions were not the byproduct of poor coverage. They came from Goff's deadly precision. This was what set him apart from the other Air Raid guys.
How has he progressed so far?
Like Wentz, Goff ended up with the perfect coach. Unlike Wentz, that wasn't in his first season. It never made any sense to me why an old school coach like Jeff Fisher would draft a spread quarterback. After an 0-7 start to his career, some were already ready to write him off. Looking back at the tape, this was ridiculous. Apparently Mr. Fisher never heard of screen passes, motion, and quick crossing routes. Or, as some people call it, the kinds of plays that build a rookie's confidence.
Fortunately, we can let Mr. Fisher off the hook for this perplexing move because Sean McVay swooped in to save the day. He, unlike Fisher, took the time to learn about the spread and integrate some concepts with his offense. He made a conscious effort to build Goff's confidence and clearly took the time to teach him proper footwork under center. This resulted in a shocking NFC West title.
What should the future hold?
The Rams are on a short list of teams ready to potentially dominate the NFL when Tom Brady finally decides to retire (more on that later). If Marcus Peters can deliver, then their defense is going to be much improved. This will ease the pressure on Goff and let him work on his mid-level throws. He showed plenty of flashes last season (I can remember one truly majestic throw to Connor Kupp against the Vikings), but needs to work on his consistency. The tape showed he was a little late from time to time, preventing big gains on crossing routes.
As Goff refines his touch on the mid-level throws, he'll enter the MVP debate going forward. His deep ball and Todd Gurley's speed will always force defenses to surrender the middle of the route tree.  I'm really excited to see what he and Brandon Cooks will be able to do next season. Sammy Watkins failed to deliver the consistent vertical threat the Rams wanted, hopefully Cooks can. If this happens, the rest of the league is in serious trouble.
3. Dak Prescott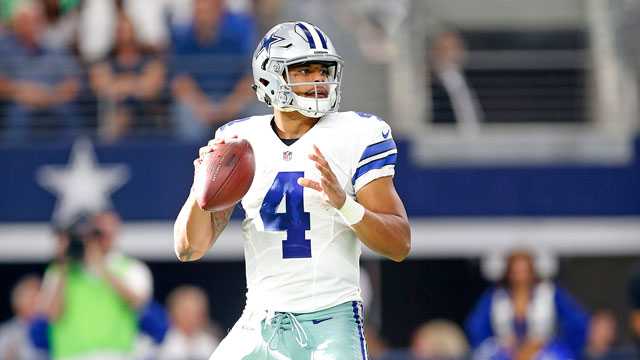 What were the expectations coming into the league?
A lot of people were comparing him to Tim Tebow. No, seriously, look it up. The concern was that he was a "work in progress as a passer" and "couldn't be relied upon on the road to carry the team". He also, like all quarterbacks his size, had plenty of scouts dismissing him based solely on his height. After all, this is the last positional stereotype to have survived modern on-field advancements.
Looking back at the tape, the concerns were somewhat justified. The problem was the offense he was running in college was purely run based. The route trees were not complicated and ill-suited for no-huddle desperation. By that logic, it's hard to blame him for failing to lead a run heavy offense on a once in a life time rally from a huge deficit. Right?
How has he progressed so far and what should the future hold?
With Ezekiel Elliot back for the full season, Prescott is poised to have a big year. The offensive line, so critical to their success in 2016, should also be back at full strength. I could rehash my entire article from a few weeks ago. Or I could go watch Westworld and you could read it here:
https://www.watchfantom.com/the-cowboys-receiving-corp/
4. Deshaun Watson
What were the expectations coming into the league?
Deshaun Watson beating Alabama is one of my all time favorite college football memories. I really, really liked and respected him as a leader and as a winner. But I am guilty of writing him off as a professional quarterback. I didn't think the offense he played in would translate and I was concerned about his high interception rate.
There are just some guys who know how to win. As I've gone back and re-watched his college highlights, that's what I somehow missed. The offense he played in and some of his costly interceptions, didn't matter in the end. When the game was on the line, Clemson could depend on him. With good reason, too, as he rarely let them down.
How has he progressed so far?
Well, he almost beat the Patriots in Foxboro, so I'll go ahead and say it's going pretty well so far. Bill O'Brien surprised me by trading up to get him and surprised me with how dramatically he altered his offense. Truly he took Bill Belichick's philosophy of adjusting based on talent to heart. Either that or he learned from the whole Brock Osweiler fiasco, that no, not everyone can run the same offense as Tom Brady . . .
Watson showed tremendous feel for the pocket in 2017. Many of his runs and his best completions came from him climbing the pocket instead of rolling out (as many rookie quarterbacks do). That was what floored me. It's hard enough to remind second and third year quarterbacks to climb the pocket, let alone a rookie. He did have a few throws he shouldn't have made (one against the Patriots was about 25 yards across the field). But all and all, he is leaps and bounds ahead of where I thought he would be as a passer.
What should the future hold?
Watson, like Wentz, is returning from a major knee injury. So much of his game revolves around his ability to run, it's fair to wonder if he will be the same player. I can already hear the RG III comparisons and Week One is still months away. I wouldn't put too much stock in those comparisons from two reasons. One, he's a much better passer from the pocket than Griffin. And two, when he injured his knee, he went right on injured reserve. His coach didn't persuade him to keep playing on it.
Taking a brief aside, it is critical fans remember that part of the RG III saga. He's become the poster boy for QB knee injuries and because he kept playing on an injured knee (damaging it further), it's a terrible comparison. Grumble.
Anyway, Watson should be back this season. I imagine he and Bill O'Brien sat down this off-season to tweak the Houston playbook. By adding some RPO's and more bootlegs, they can continue to take advantage of his speed without risking another injury. The only concern here, ironically, is his commitment to winning. He must realize he can't try for extra yards when he runs. He's too valuable to risk another knee injury.