The moment everyone has waited for… (Drum roll please…) Andrew Luck has thrown a football for the first time in eight months. Not a futbol, not a John Elway Vortex football, but a real, leather, American football. We didn't know if this day would ever come, like a pre-nuptials Russell Wilson, but it did, like a post-nuptials Philip Rivers.
Perhaps it's because Luck hasn't played since the 2016 season, or because his alter ego General A. Luck has overshadowed him, but people have somewhat forgotten how good Luck was and presumably still is. [Cris Collinsworth voice] Now here's a guy who took a 2-14 team to the playoffs his rookie year, orchestrated one of the biggest comebacks in playoff history his second year, and beat the Broncos in Denver his third year before falling victim to low air pressure in New England. That was with professional douche bag Ryan Grigson piecing together the roster and Chuck Pagano leading the troops (a better guy than a head coach).
Luck, ironically, has encountered a string of (get ready) bad luck since the Colts' loss in the AFC Championship to the Pats. In the middle of beating the Broncos in 2015, Luck got a lacerated kidney for his troubles and was never the same that year.  Then, his shoulder was mashed into warm lasagna in 2016 to the point where he had to miss all of 2017.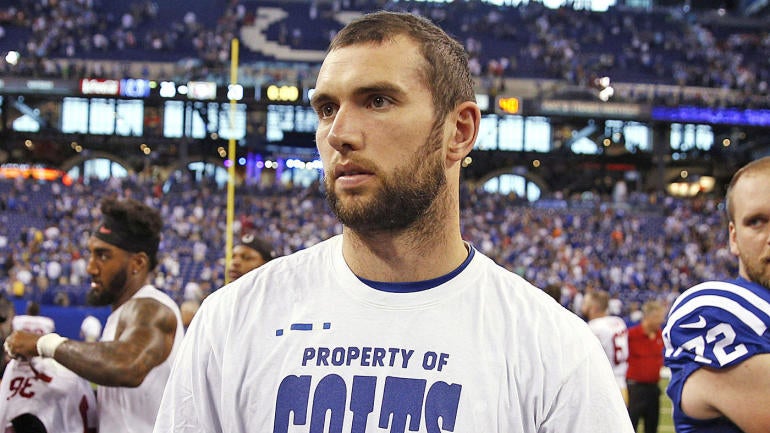 When he has enjoyed decent health, Luck has more than proved that he's a top-five quarterback. Not top-five caliber, or a guy with top-five potential, but a guy who is top-five when he's on the field. His last two healthy seasons, 2016 (15 games) and 2017 (16 games), Luck threw a combined 71 touchdowns to 29 interceptions. Not only that, but he's a fucking terror when it's third-and-16 and you just know he's gonna find a hole in the defense and run for exactly 17 yards.
Aside from injury, the major thing that's held Luck back is the talent around him. Not to sound like a guy arguing for LeBron over M.J., but Luck really has had to carry the Colts since day one. The two offensive picks that followed Luck in the draft were Coby Fleener and Dwayne, two tight ends that never panned out. T.Y. was a revelation late in that draft, but that's about where it starts and ends. For the love of God and two-yard carries, the Colts sold the farm for Trent Goddamn Richardson thinking he was the next Earl Campbell. May he rest in peace, but the Colts were trotting Zurlon Tipton out at running back when they beat the Broncos in the playoffs.
Here's a little hypothetical: Luck and Russell Wilson are the two best quarterbacks from the 2012 draft (Brock Osweiler is in a class of his own). What would happen if you put Luck on the Seahawks and Wilson on the Colts? Do you think the Seahawks still win the Super Bowl in 2013 without Wilson? I think they do. And I don't think Wilson wins or even reaches a Super Bowl in Indy. That's not to say Wilson isn't very good in his own right, but he doesn't have the ability to raise all ships like Luck when things are crumbling around him (see 2017 Seahawks).
The argument you might make against Luck is that he's too turnover-prone and might throw away a playoff game with the Seahawks. That's a valid criticism, but I think Luck has the ability to adapt his style of play knowing he wouldn't have to do as much with Seattle's roster as he would with Indy's. You have to take more chances when your team is blowing first rounders on the aforementioned Trent Richardson, Philip Dorsett, and Bjoern Werner.
Fortunately for Luck, I think the tide may be beginning to turn in Indy. Chris Ballard, who succeeded Grigson as GM, seems plenty competent so far, and (obviously) the Colts dodged a massive, heat-seeking bullet when Josh McDaniels slithered his way back into New England, allowing Frank Reich to take his spot in Indy.
Ultimately, here's where I would rank Luck among his fellow quarterbacks this season:
Aaron Rodgers

Tom Brady

Carson Wentz

Andrew Luck

Drew Brees
A lot of it boils down to health, of course. If he plays close to a full season, the Colts will probably be able to compete in a crowded AFC South. If not, they're not beating out the Jags with Jacoby Brissett. With Luck, just about anything is possible.
Essentially, Luck's shoulder may be bum, but a bum he is not.