So we come to it at last: Tier Four of the 2018 25 and under QB rankings. Taking a quick glance through the list, I'm sure some readers will want to pass. None of these four quarterbacks are projected to start this season. Some of them might be lucky to even be in the NFL for the 2019 season. I get it. But, I would advise you not to dismiss them so quickly. There is a chance, in my opinion anyway, that some of them could find themselves in starting roles some day.
Let's take a look . . .
13. C.J. Beathard 
How do things look in 2018?
The Shanahan offense is one of the most punishingly complicated in the NFL. For a rookie to step in and run it fairly well is bordering on miraculous. Somehow that's exactly what C.J. Beathard was able to do in 2018. Looking over his stats and his game logs, it might not look that way. His completion percentage was low (54.91%) and he threw more interceptions (6) than touchdowns (4). But delving deeper into the game logs, it's clear that these numbers are skewed by a game where they got blown out by Philly and a 51 pass game against Arizona. As to why he threw 51 times, it's not clear. They only lost by 10 and Carlos Hyde only got 12 carries.
Anyway, my point is, look at the tape. You'll see a prototypical Big Ten quarterback. He can throw from under center, is very accurate, run when he needs to, and does not force the ball into impossible windows. I wonder if Shanahan was planning on building his offense around Beathard before the Patriots gifted him Jimmy G. With Jimmy G in the fold, and on a massive contract, Beathard will ride the pine in 2018.
What's the best case scenario moving forward? 
I have a feeling he won't go anywhere until his rookie contract is up. Like I said above, the 49ers' offense is punishingly complicated. Kyle Shanahan is not going to let a back-up that understands it go. Whether it's fair or not, Jimmy G's performance down the stretch has people talking playoffs for San Fran in 2018. If God forbid something were to happen to Jimmy G, Shanahan can feel safe throwing Beathard back on the field.
The one good thing about those Big Ten quarterbacks I alluded to above is that they keep coming. It's the one conference a coach can find a pro-ready quarterback. Iowa, Wisconsin, and Michigan State still churn out plenty of quarterbacks who can play under center and control the game. In a few seasons, Shanahan can find a new Beathard. Around that time Tom Brady will be retiring and Beathard looks like a perfect placeholder for the Patriots. Think I'm joking? Why don't you review Brady's highlights from his first seven seasons. Tell me that isn't a prototypical Big Ten quarterback relying on play action . . .
What's the worst case scenario moving forward? 
The worst case for Beathard is that he never gets another chance to be a starter. I'm not saying it would a terrifying mistake if he never got another shot, I just think he deserves one. The unfortunate underside to being a Big Ten quarterback is that for every Tom Brady, Drew Brees, or Kirk Cousins, there are also Scott Tolzien's, Drew Stanton's, and Chad Henne's. Sometimes enough years go by and they become viewed as back-ups only. If you watch Beathard's film, you can see why I hope that doesn't happen to him too and, unfortunately, why it might.
14. Nathan Peterman 
How do things look in 2018?
It's almost impossible to say. As of right now it looks like Peterman will be backing up AJ McCarron in 2018. As training camp goes on, he'll likely slide to third on the depth chart behind McCarron and new Bills' savior Josh Allen. Going into the 2017 draft, I watched so much tape on Peterman, I really hoped the Browns would draft him. At Pitt he showed great footwork, expert ball placement, and plenty of intangibles. Many scouts deemed him the most pro-ready of all the quarterbacks in the draft. When Buffalo started him mid-season over Tyrod Taylor, part of me wondered if their long search for a QB was over.
Then came the five interception first half in San Diego. Going back and looking at the film, one bounced off the receiver's helmet (1), one was under-thrown because he got laid out (3), and one looked like a miscommunication (5). Those can be forgiven. But another was a panic throw (2) and one was an inexcusable throw to a covered receiver on the sideline (4). Once that happened, the Bills started scheming to take a run at one of the top five quarterbacks. Leaving Peterman's career in flux.
What's the best case scenario moving forward? 
The best case for Peterman is an early change of scenery. Maybe not this season, but definitely by 2019. The Bills are all in with Allen. McCarron figures to stick around for a few more seasons as a mentor and insurance policy. The Bills can always scour the draft for a third stringer to develop, they are not beholden to, nor do they need, Peterman.
Looking over the teams who might be in the QB market over the next few seasons, an intriguing option is Denver. I like Case Keenum, I'm just not sold on him as a long term starter. The Broncos may look to replace him if he struggles in 2018. Yes they still have Paxton Lynch, but I have a feeling John Elway might be intrigued by what Peterman accomplished at Pitt. He fits the mold of the "don't screw it up for the defense", ball control quarterback the Broncos need. If Keenum struggles, look for this move.
What's the worst case scenario moving forward? 
The worst case for Peterman is he sits as a third stringer for the remainder of his rookie deal. Unlike McCarron, Peterman is not a good fit for a Josh Allen-friendly scheme. By the time that's over with, that five interception half is all anyone is going to remember about his time in Buffalo. Maybe he catches on with another team, but by that point it will probably only be as a training camp body. It's tough to imagine one half defining someone's entire career. Five interceptions in one half, though, is a hard one to let slide.
15. Cody Kessler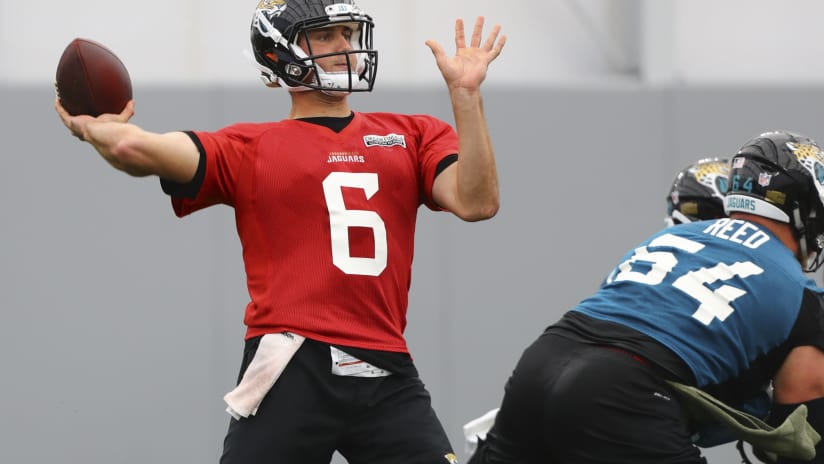 How do things look in 2018?
Unclear in the case of Cody Kessler. A year after he was projected by many to be the Browns' starter, he finds himself fighting for a back-up spot in Jacksonville. Much like Deshone Kizer, he was forced onto the field long before he was ready. Unlike Kizer, this was not a deliberate move. Early and predictable injuries to RG III and Josh McCown threw Kessler into the fire in Week 3 of the 2016 season. He then suffered two concussions and took a multitude of even more viscous hits. All things considered, his performance was admirable.
The Browns' old regime drafted Kessler in the third round because of his outstanding accuracy at USC. When he wasn't running for his life, he showed the same accuracy in Cleveland. Where he struggled was with the deep balls. His lack of size requires a clean pocket to drive the ball down field. I'm sure this is what appealed to the Jaguars. They have a strong running game and saw the power of RPO's in the AFC Championship Game. Kessler's accuracy and poise make him a good fit for their scheme.
What's the best case scenario moving forward? 
The best case for Kessler is a few seasons backing up Blake Bortles. He still needs to time to improve his lower body strength. Doing so will help his deep ball and allow him to take better advantage of his accuracy. Bortles has been so up and down during his tenure in Jacksonville, there's a decent chance they let him walk after his three year contract is up. Assuming they still have a great running game and defense, maybe they let it ride with Kessler.
Outside of that, there's a decent chance he can catch on somewhere else. Like Case Keenum, he might get one last shot via injury and make the best of it. It's sad to say someone's career hangs in the balance of an injury, that's just Kessler's best shot if it doesn't happen in Jacksonville.
What's the worst case scenario moving forward? 
The worst case for Kessler is an early Bortles injury forcing him on the field, once more, before he's ready. He's already undersized and has only one "dude, it's fine, you were with the Browns" get out of jail free card to play. If he struggles on a far superior team, he's likely on his way to the CFL. It's a shame NFL teams still struggle to let go the height stereotype, yet here we still are. If you're not an elite talent (like Russell Wilson), height can be the difference between playing and fading into obscurity.
16. Brett Hundley 
How do things look in 2018?
When Aaron Rodgers was injured, the Packers resisted suggestions to go out and find a veteran to replace him. They placed their faith in Hundley and he was, shall we say, underwhelming. He had two great games. One against the Steelers the resulted in a loss and one win against the win-less Browns (an OT win, mind you). The rest of the time, he struggled to move the ball downfield. Too often he settled for the short completion instead of taking a chance. As Mike McCarthy accurately said:
"Brett Hundley wasn't ready for what he needed to be ready for. That's something that we have to learn from, and that stings."
While I'm sure it was hard for Hundley to hear his coach say this, he has to know he's right. Now he finds himself in a battle against a younger QB, Deshone Kizer, who looked better in a terrible offense than Hundley did in a good offense. The clock is ticking and Hundley needs to prove to McCarthy that he can learn from his mistakes.
What's the worst case scenario moving forward? 
I'm skipping the best case scenario because the worst case scenario is already underway. Rodgers got hurt, Hundley under-performed upsetting his coach, and now he's battling for his back-up role. While he could catch on somewhere else, it's a big fall in one season from QB of the future to guy desperately holding on. To be blunt, I really feel that unless Kizer completely falls on his face, Hundley is on his way out in Green Bay. If that happens, I genuinely don't know what the future holds . . .