Don't tell me June is a boring football month. Listen pal, OTAs always tell us a lot. Namely, who is holding out for more money and who isn't. Other than that… well, not much to be honest.
Things don't really heat up until training camp, if we're being perfectly honest. That's when the roster starts to take shape, fans are allowed to show up and get brutally sunburned, and most importantly, position battles are won and lost.
Naturally, the most compelling position battles are at quarterback. This year, I identified four legitimate quarterback battles. This isn't to say that the remaining jobs are safe in the long term, just that they're probably not going to change prior to the season.
So who's coming out on top and who's going to be working those clipboard muscles come September?
Arizona Cardinals: Sam Bradford v. Josh Rosen v. Mike Glennon
Unfortunately, Mike Glennon doesn't quite live up to his status as the second-best two-minute drill quarterback last year (seriously, look it up), so he's getting crossed off.
My instincts tell me Sam Bradford wins outright, but it won't matter when he gets routinely tackled on the second snap of the season, shattering every bone in his body and turning his vertebrae into a game of Jenga.
That would leave the door open for Josh Rosen, the rookie from UCLA who is mechanically flawless and easily the pro-ready guy in his draft class. The only question is whether he (like Bradford) can avoid injury.
Winner: Sam Bradford
Buffalo Bills: A.J. McCarron v. Nathan Peterman v. Josh Allen
YIKES. In this corner, we have an Alabama graduate with horrible tattoos and a restraining order on Brent Musberger. In the other corner, we have a quarterback who threw five interceptions in one half of football. In the other, other corner. We have Twitter's version of Mark Fuhrman, except with bigger hands, an ungodly arm, and a Mountain West pedigree.
This might really be the tallest little person competition. McCarron is by far the most accomplished, given that he had the Steelers beat in the 2015 playoffs before Jeremy Hill played hot potato with the football.
The early word out of OTAs is that Peterman is in the lead. Hmm. I'll just remind everyone that it's OTAs and like the points in Whose Line, it doesn't matter at all.
Winner: A.J. McCarron
New England Patriots: Tom Brady v. Danny Etling
Winner: Danny Etling
Cleveland Browns: Tyrod Taylor v. Baker Mayfield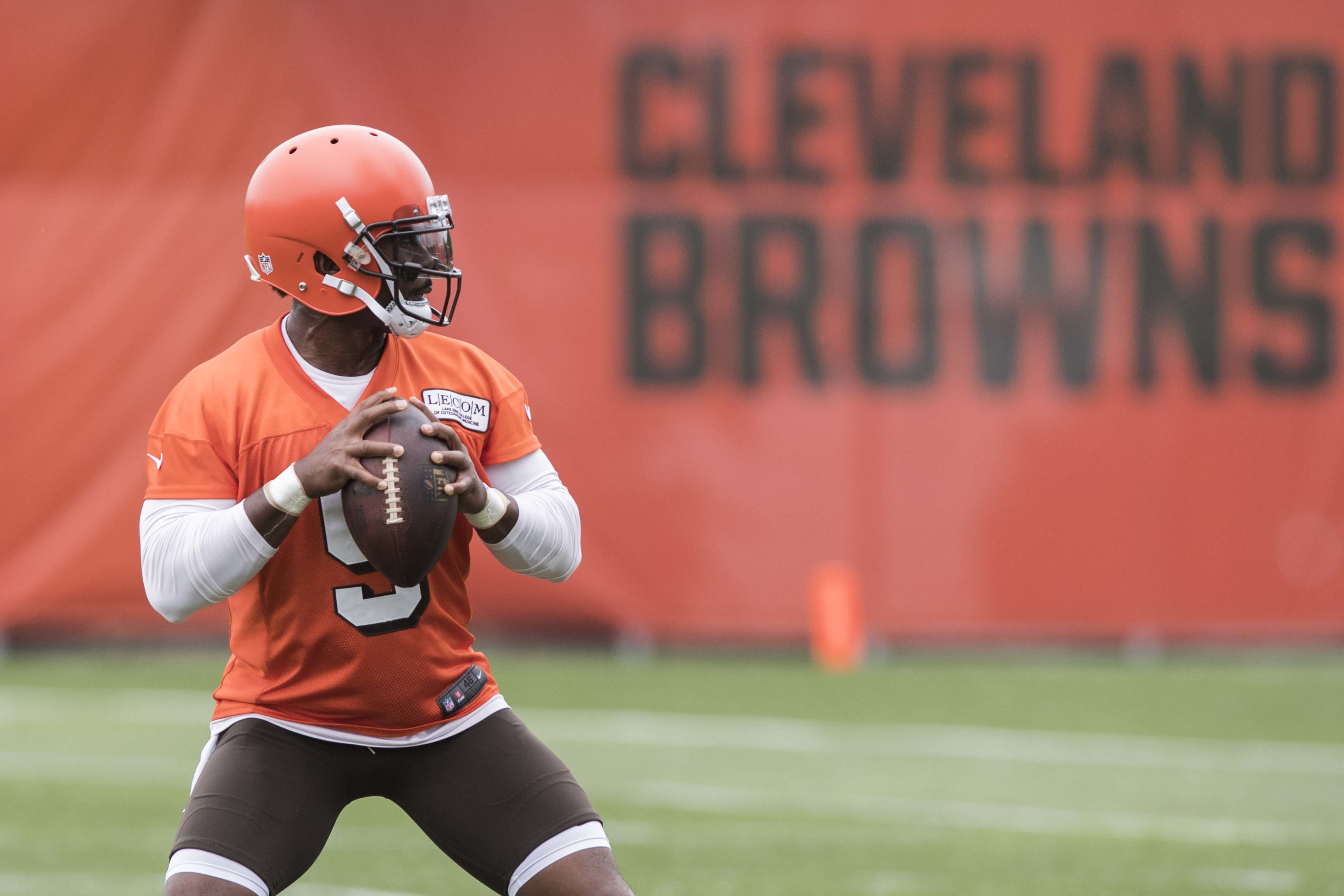 Colin Cowherd has me at gunpoint telling me to type the words "Tyrod" and "Taylor" here, so I guess that's who I'm going to go with at the beginning of the season.
For real, though. I think Tyrod Taylor is about as good as you could get to bridge the gap between Cleveland's messy quarterback situation last year and the future in Mayfield. As long as he doesn't have Nathan Peterman breathing down his neck, of course.
As long as the Browns aren't in the playoff race, and I doubt they will be for obvious reasons, I think the plan should and will be to hand the reigns over to Mayfield by Week 10 or 11 and let him go from there without the pressure of a full season and its fate on his young, flag-planting, masturbation-pantomiming shoulders.
Winner: Tyrod Taylor
New York Jets: Josh McCown v. Sam Darnold v. Teddy Bridgewater
Six arms and five knees between the three of them (sorry, Teddy, low blow). I don't see much value in not going to Darnold right out of the gate. He's a guy that only had two seasons worth of experience at USC and should see the field as much as possible in the early going. The Jets aren't a playoff team in 2018, so you might as well let Darnold take his lumps.
You know what you have in McCown. Every team knows, I think. When he's not helicoptering into the end zone or not jackin' it, he's a slightly below average passer.
Meanwhile, Teddy Bridgewater might finally be all the way back, despite probably never regaining his former athleticism. It's really too bad for a guy that seemed to be turning the corner before a freak injury derailed his career. Hopefully he gets a shot at some point.
Winner: Sam Darnold