After eight days of practice, one scrimmage, and one potential street fight between a punter and radio host (open invite to Marquette King to hash it out on the podcast with me and Brandon), the Broncos are going to cut through some of the fog on Tuesday and release the first depth chart of the season.
Rather than bore you all with the positions that have been seemingly locked in since the beginning of time, I'll focus on just the ones that are up for grabs: backup quarterback, wide receiver, tight end, running back, and cornerback. Also, I'm only going to include guys that I think will make the team or practice squad.
The first depth chart of August matters roughly as much as the points on Whose Line Is It Anyway, but damnit, you people deserve this content. And also there's not that much going on right now.
Quarterback
QB1: Case Keenum
QB2: Paxton Lynch
QB3: Chad Kelly
This is one that I think could change very, very quickly. Both Lynch and Kelly have been mediocre at practice, but Kelly turned more than a few heads at the scrimmage, giving the people the vibe that he's a gamer (as opposed to a practice-er).
For Lynch, I'm not sure things could get any worse. He's on the verge of losing his job to a seventh-round pick again, people are saying that Tim Tebow was a better pick (he was), and he still has the facial hair of a swashbuckling 18th century pirate.
If Kelly doesn't look great in the preseason (or just good), expect the Broncos to add a vet like Matt Moore.
Folks,more like Matt Less

— PFTCommenter (@PFTCommenter) January 8, 2017
Wide Receiver
WR1: Demaryius Thomas 
WR2: Emmanuel Sanders
WR3: Courtland Sutton
WR4: DaeSean Hamilton
WR5: Isaiah McKenzie
WR6: Tim Patrick
If you haven't booked your tickets to Canton to see Courtland Sutton get inducted into the Hall of Fame in 2038, you're simply not paying attention. He's Mossing people so hard that players like Bradley Roby are getting rattled, and he treats DPI like he's just swatting a fly off of his shoulder.
It's disappointing, but I really don't see how Carlos Henderson makes this team. If you can't make the club from the tub, you sure as fuck can't make the roster when you're off the grid like Alexander Supertramp wandering rural Alaska (potential oxymoron).
Tim Patrick seems to be producing constantly with the third-team guys, so I think he sneaks on in if the Broncos hang on to six wide receivers.
Tight End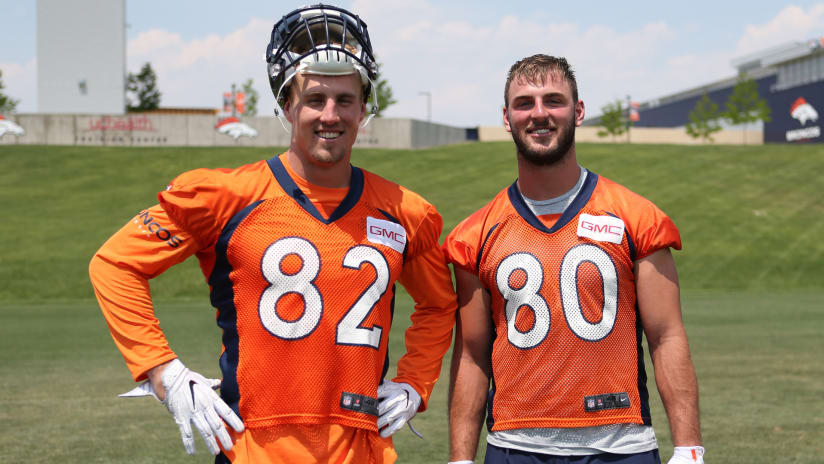 TE1: Jeff Heuerman
TE2: Jake Butt
TE3: Austin Traylor
TE4: Troy Fumagalli
Out of all the positions, tight end might be the one where the order matters the least right now. All of the four top guys are good enough to make the team, and I think it will come down to who shows up in the preseason.
There are guys that produced last year (Heuerman, Traylor) and the guys who we're seeing for the first time (Butt, Fumagalli). Matt LaCosse really showed up out of nowhere at the end of last season, but now that Butt is healthy and Fumagalli is in the picture I don't see how he sticks around. I think, given enough time, Butt will eventually rise to the top (sorry to disappoint but I'm all dry on Butt jokes at the moment), and tight end could be a position of strength for the first time since Julius Thomas.
Running Back
RB1: Devontae Booker
RB2: Royce Freeman
RB3: DeAngelo Henderson
RB4: David Williams
RB5: Phillip Lindsay
Speaking of positions of weakness becoming suddenly deep, running back has a whole boatload of potential. Booker will likely stay at one this week just out of sheer tenure, but I don't think it will take long for Freeman to make his way to the top.
There could be some back and forth between Lindsay and Williams, but in the end one of them will probably end up on the roster and one of them will end up on the practice squad (my guess is Lindsay, because he does a lot of the same things as Henderson).
Cornerback
CB1: Chris Harris Jr.
CB2: Bradley Roby
CB3: Isaac Yiadom
CB4: Tramaine Brock
CB5: Brendan Langley
CB6: Marcus Rios
The top two spots are as set in stone as wide receiver, but after that it's basically a mystery. Yiadom has been pretty solid during camp, but the depth is shaky enough for me to think that the Broncos might get ol' Kayvon Webster on the blower if he's healthy.
Corner is quietly starting to worry me. If either of the top two guys get hurt (my knuckles are starting to bleed from knocking on too much wood), it could really compromise the defense. Not to scare anyone, but I think the Broncos will be going hard after corners in free agency and the draft in 2019. You really can never have too many good ones.
P.S. Please feel free to congratulate me on Tuesday via Twitter or elsewhere when these predictions are 100% true.