My last article about Jon Gruden's return to the NFL and his remarks towards statistics got me thinking about how hard it must be to be an NFL scout. Every year more and more college teams are going to the spread option offense.
NFL franchises will never be able to fully implement the spread. There's no need to go into great detail as the answer is simple: there's no way in hell an NFL franchise is going to invest 100 million dollars in a quarterback and then let him run 100 times (unless he's bigger than most linebackers like Cam Newton).
So, where does that leave scouts and GMs? It leaves them with the unenviable task of breaking down the offense and finding transferable skills that can be honed in the NFL. This is particularly important with quarterbacks as the speed of the defense catches up with the speed of the offense.
Last year's #1 pick was Myles Garrett. Myles Garret is 6'4″, weighs 272 pounds, and can run the 40 in 4.64 seconds. There's no way to consistently get away with jet sweeps and QB options when defensive linemen are that fast. This makes the passing game that much more critical.
Let's take a quick look at the objectives of the spread offense and the West Coast offense (as it is the most complicated pro system), then use Baker Mayfield to identify some transferable skills.
The Spread Offense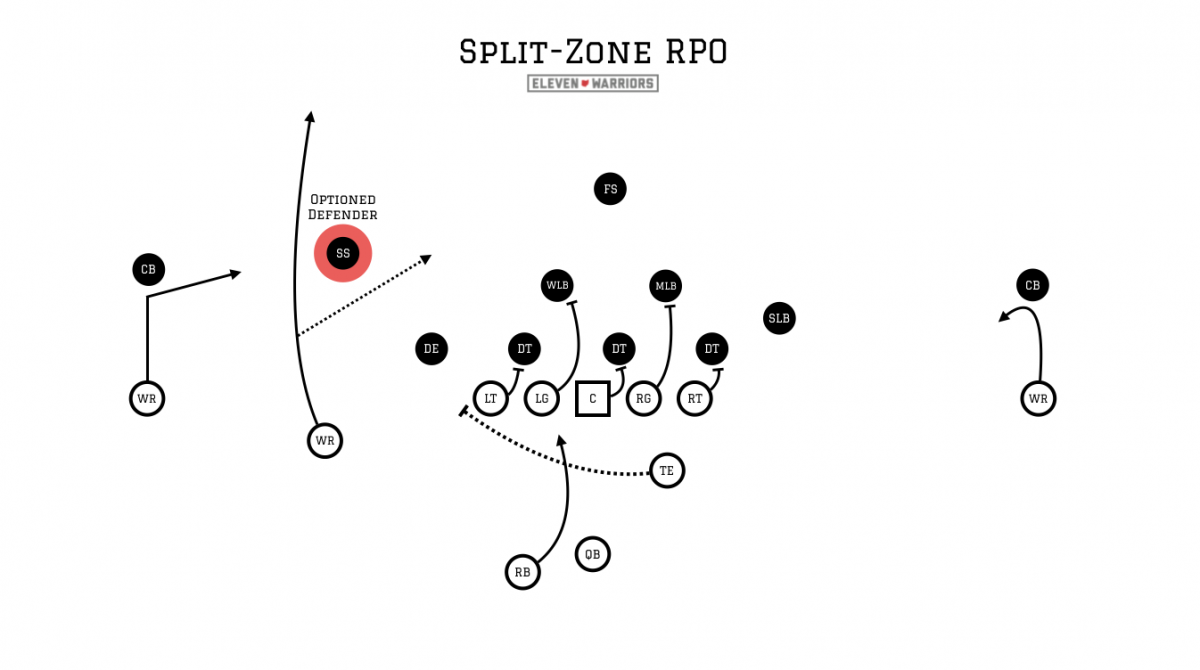 The spread offense stretches the defense laterally to create space. It relies on speed to keep a defense from keying in on one player or one area of the field. Defenses must be careful moving their safeties around as they must be able to keep off tackle runs contained to 5 yards or less. The spread offense is fueled by using the run to get play-makers the ball in space.
So many teams have moved in this direction to counteract the high turnover in the college game and the residual lack of continuity. Each position must be plug and play. That severely limits the variety of plays that can be run. Teams must rely on plays like the Run Pass Option above because they can be run multiple times every game (sometimes exclusively). This gives teams the flexibility to avoid huddling up between plays.
This means quarterbacks must be able to improvise and the play calls have to be simple. Many teams use wrist bands to hold play cards. They call out numbers and each number on the card tells the individual player what to do. That means most quarterbacks come out of college having never called plays in a huddle before.
They often emerge from the college game unable to read coverages. Plays like the one above rely leaving one lineman unblocked, reading him, then making two decisions before tucking the ball and running. Most plays have one primary receiver, then a check down. If neither is open, run.
The West Coast Offense
The West Coast offense uses short, quick passes to open horizontal lanes and force the defense to defend the entire field. Quarterbacks must be able to remember the proper amount of steps per play or the timing will be off. Backs and receivers must be able to run precise routes and rack up the YAC (yards after catch).
As the defense creeps up, tight-ends and slot receivers look to exploit holes up the seam. This takes careful planning and organization, which means the team must get into the huddle in between plays. The quarterback must be able to relay every detail, hence the complex play calls above. He must be able to get the ball to his play-makers in space, ideally hitting them in stride. This makes a quick release and consistent accuracy necessities.
A true West Coast system can take years to fully implement. Not only does it require learning the intricate playbook, it requires constant repetition to make the timing second nature. Non-Cleveland NFL teams offer a longer window for coaches to phase in their offense. The players also have all off-season to learn it as they do not have classes and are paid to play, unlike in college (hardy har har).
Transferable Skills
You may have noticed the phrase "get the ball in space" appeared in both sections. That's what scouts have to try and evaluate when it comes to quarterbacks. Can they get the ball their play-makers on time? Turning now to Mr. Mayfield, let us consider this . . .
He did play in a no-huddle spread system. He did a lot of running and a lot of improvisation. He completed 70 % of his passes with an 11.3 AY/C. When you watch the tape, you can see him working through progressions, only running when there were no other options. He has a very quick release and seems to know how to find throwing lanes (which at 6'0″ he needs to). At the Senior Bowl he showed good footwork, especially on bootlegs.
The footwork at the Senior Bowl, his completion percentage, and his ability to work through progressions are what will stand out the most to a scout. These are the same attributes that Russell Wilson had when he came out of college. They are the three critical skills an undersized quarterback needs to succeed and every quarterback needs to play in a West Coast system.
That means that when they are reviewing his tape, they can exclude all the fancy running highlights. They can exclude all the improbable bombs. They just need to focus on the plays that highlight those three transferable skills. Namely plays in which he rolls out, sets his feet, and his a mid-level crossing route.
Then they can look at the possibilities of Baker Mayfield the future West Coast quarterback, not Baker Mayfield the Heisman Trophy winner.