I'm really struggling to write this as the reality Joe Thomas has retired sinks in. As I do in my personal life, I shall have to ease this process with the help of my favorite movie:
The Big Lebowski
And so I have reworked the great eulogy scene to express my gratitude and awe of Joe Thomas . . .
"Joe was a good football player, and a good man. He was one of us. He was a man who loved the outdoors… and football, and as a player he explored the stadiums of Rust Belt, from Pittsburgh to Cincinnati and… up to… Chicago.
He retired, like so many young men of his generation, he retired before his time. In your wisdom, Lord, you took him, as you took so many bright flowering young men at Cleveland Stadium. These young men gave their careers. And so did Joe. Joe, who for whatever reason always loved the Browns.
And so, Joseph Hayden Thomas, in accordance with what I think your retiring wishes might well have been, I commit my Monday morning article to you and the career I so admired.
Good night, sweet prince."
The Dream of 2007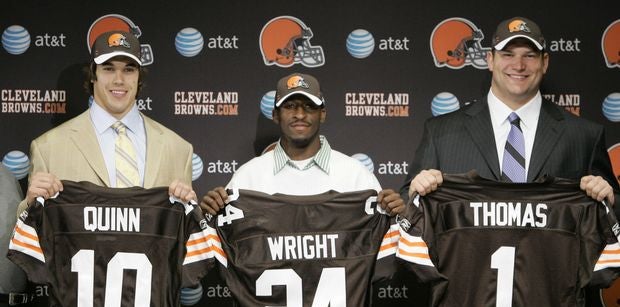 This was supposed to be the draft class that launched the Browns into contention. They were not only able to add Joe Thomas with pick 3, they were also able to trade back into the first round, drafting quarterback Brady Quinn. Eric Wright then fell to them in the second round. Acquiring these three players in the same draft was viewed as an extraordinarily brilliant move by the front office.
Then it all got complicated. Thomas succeeded, Wright had his moments, and Quinn was given a year to develop. Out of nowhere Derek Anderson made the Pro Bowl. The Browns finished the season 10-6 missing out on the playoffs because of an ill-timed 4 INT performance by Anderson against the Bengals in Week 16.
Heading in to 2008 it looked like the Browns had solidified the five key positions every franchise needs to succeed: quarterback (Anderson), left tackle (Thomas), #1 receiver (Braylon Edwards), corner (Wright), and pass rusher (Kamerion Wimbley). In typical Browns fashion, this was a ruse. They were instead about to plunge headfirst into a vicious cycle of turnover and ineptitude.
A Vicious Cycle 
The Quinn versus Anderson debate raged into the 2008 season. The Browns lost their first three games. A remarkable performance against the defending champion Giants on Monday Night Football looked like it would turn the season around. They played better until Edwards dropped a wide open TD against the Ravens.
Quinn was promoted, then got hurt. Anderson came back and got hurt. Romeo Crennel and Phil Savage were fired. The entire rest of Joe Thomas' career was bogged down in the cycle above. Every couple of years a new coach, a new scheme, and the only consistent player was Thomas.
No word better describes Joe Thomas than consistent. He was out there for 10,363 consecutive snaps. Take some time to really let that sink in. 10,363 is a truly spectacular number.
It's not like he was able to play that long because of some Tom Brady-esque diet or routine. He got hurt. He barely practiced in his later years. Both to prevent injury and because he really was that great of a left tackle. The truly remarkable thing is that the Browns were so awful for most of this time. Many seasons were effectively over by Week 10. If he had said "I'm going to sit out the finale", I know I wouldn't have blamed him.
Joe's Legacy 
Thomas deciding to skip the draft, going fishing with his dad instead immediately endeared him to a city like Cleveland. His willingness to play through all the B.S. and never complain about it have made him, deservedly, a legend.
As you may have ascertained from my previous articles, it has not been easy watching the Browns struggle year after year. I have no doubt it would have been worse if Thomas had complained or held out for a trade. A few years ago I remember the Broncos tried to trade for him at the deadline. He could have forced that move. I sort of wish he had. He deserved to go to the playoffs.
Ultimately, I'm glad he didn't go. I feel like there would have been a moment 10 years from now where people would start lumping him in with all the other star players that have gone on ring hunts. Wade Boggs with the Yankees, Ray Allen with the Heat, Gary Payton and Karl Malone with the Lakers, it's a story that's been told many, many times before.
Joe Thomas could have done what they did. Instead he stayed through all the losing. He stayed and did his job week in and week out, made the Pro Bowl in 10 of his 11 seasons, and was cordial to the media, never taking the "throw the franchise under the bus" bait.
Now it's all over. At 33 it's good for him to step away before another injury hampers his next move. If you have a chance, check out his TomHawk podcast with Andrew Hawkins. It's obvious he's going to be a great commentator.
That is when he's not at the training complex working with his replacement Shon Coleman. I saw that story on Cleveland.com and it made perfect sense. What retired player would stick around and start work with a young guy in line to take his job?
Joe Thomas would. Of course he would.