TMZ dropped an atomic bomb on Thursday morning, reporting that 49ers quarterback Jimmy Garoppolo went on a date with pornstar Kiara Mia in Beverly Hills last night.
Jimmy Garoppolo Takes Porn Star Kiara Mia On Date https://t.co/NdvMIZRXSQ

— TMZ Sports (@TMZ_Sports) July 19, 2018
I don't have any problem with Jimmy G going on dates with porn stars, but if this is his number one draft pick, you seriously have to be concerned with his ability to break down film. He can read a defense no problem but it looks like he has quite a bit of trouble with the opening credits of a Brazzers video.
Thanks to the exorbitant debt caused by student loans, porn has become a viable option for tons of attractive young people, which combined with high-speed wifi, has landed us in the golden age of the adult industry. I don't mean to disparage this fine woman, but there are better options, James! Just cruise through the hub for 10 minutes and you'll see what I mean.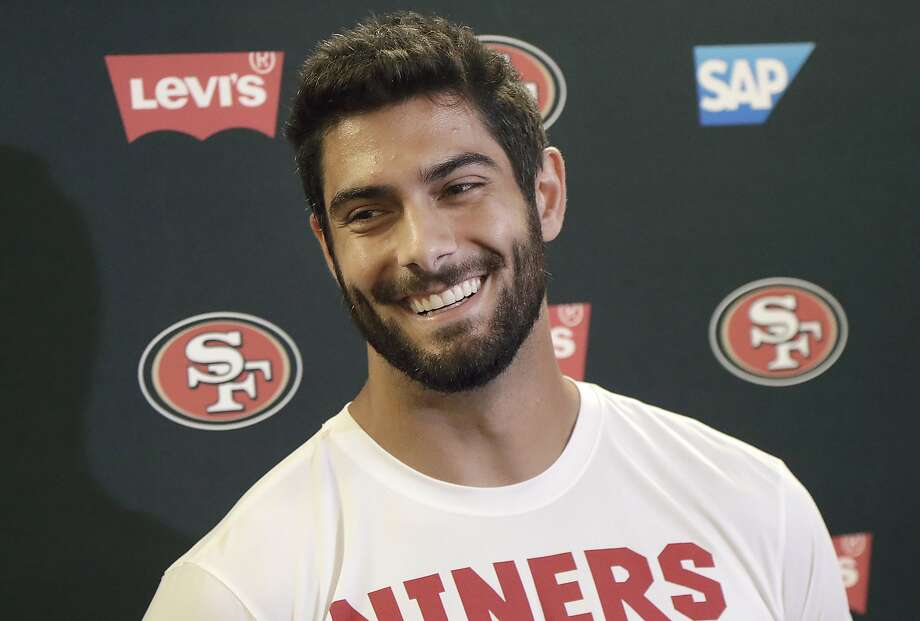 Garoppolo is currently on top of the world: he has a perfect 7-0 record to start his career, he just inked one of the highest deals in NFL history, and oh by the way, he's a goddamn handsome devil of the highest degree.
So what is this 26-year-old man dime doing with a 41-year-old porn star? Does he lack confidence? Does his quick release on the field translate to other parts of his body? It's all very concerning if you're the San Francisco 49ers. If getting a girl out of your league is considered out-kicking your coverage, Jimmy just had his punt blocked and returned for a touchdown.
Like I said, the porn star part is not what worries me — if I were a young, hot, newly-rich NFL quarterback (1/4 in real life) I wouldn't mind going on a date with a porn star just for the sheer novelty of it (Leah Gotti, sup).
My best guess is that Jimmy G has been on that Kiara Mia grind since he first discovered internet porn in 8th grade and there's a strong nostalgia factor that has to be accounted for. Perhaps her Kim Kardashian lookalike videos kept him warm on a frigid Eastern Illinois winter night, and now that he has the clout and bank account to do so, he simply wants to take her out for a nice meal in order to show his graditude.
Buckle down and study the game tape, Jim. Get Kyle Shanahan to script the first 10 DMs for you. Why check down to the running back when you can bootleg off the play action and go balls deep?
Jimmy, I hate to say it, but that record just dropped to 7-1.