The original title of this article ended with "including himself". This was too long and a tad emo for my taste. By the way, is "emo" still a thing? I am decidedly not up to date with what the things are these days. Anyway, James Harrison had to overcome everything . . . including himself.
Seriously. I sat down to write an article about a retiring player who had been overlooked in the draft. One of those modern day nitpicks of a bygone era. The story I found though was far, far more complex. It is the story of a player who was faced with all of the worst career roadblocks. Yet, somehow he made it through.
While learning about his story, I couldn't help but think of all the players who saw their careers end at those same roadblocks. As you read through this, I suggest you do the same. I also suggest you, like me, force yourself to remember this story so it not lost in the drama of his last few months in the NFL.
An Improbable Start
Let's all pause for a second and remember the random Era of Undrafted Kent State players turning into All Pro's. 
Maturity issues plagued Harrison in high school. Though he was an accomplished linebacker, running back, and track star, he paid zero attention to his grades. He was also suspended for an obscene gesture on an opponent's sideline. An incident that pales in comparison to challenging one assistant coach to a fight and shooting a BB gun at another.
Needless to say, these incidents caused large programs like Notre Dame and Nebraska to pull their scholarship offers. He was a very talented player, but, I mean, come on. A BB gun? He's lucky anyone took a chance on him. Poor grades and suspensions are the two biggest roadblocks for college football hopefuls. Not mention, once more, he shot a BB gun at an assistant.
He ended up at Kent State where he had 106 tackles (13 for loss) in his first season. In his senior season, he had 98 tackles, 20 for loss, and 15 sacks. His last game was, ironically, against Ben Roethlesberger. Harrison finished the game with 12 tackles, 5 sacks, and a forced fumble. It is highly likely that one, he haunted Big Ben's dream afterwards and two, maybe this is why the Steelers never gave up on him.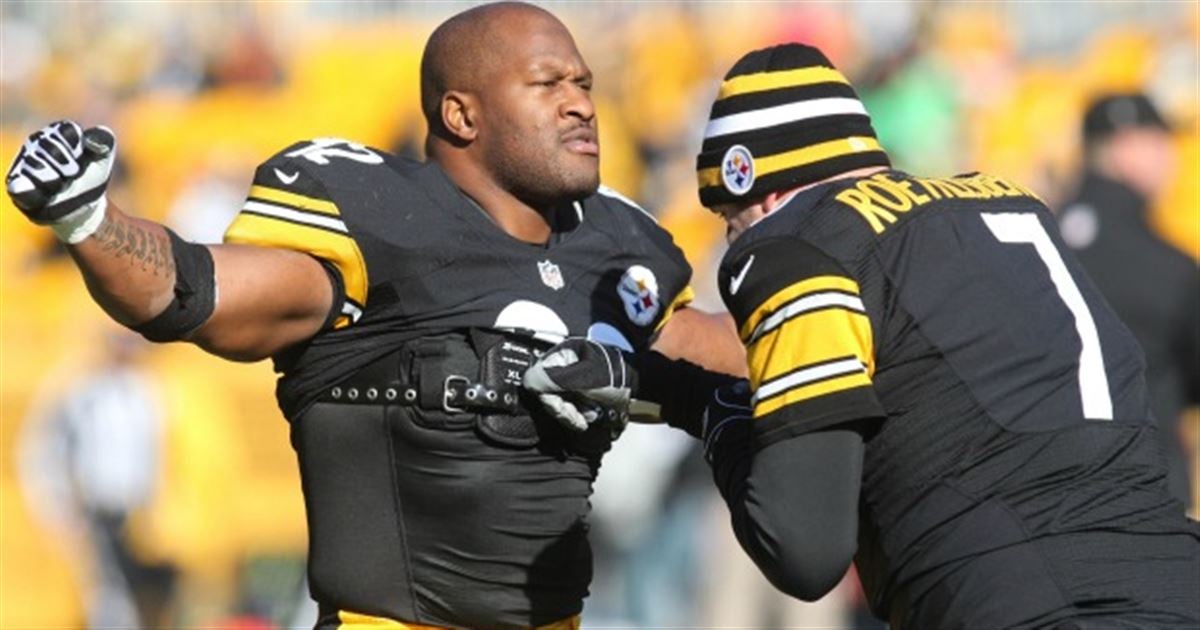 At only six feet tall, he was considered too short to be a linebacker. Most teams also considered him, at 240 pounds, too light for defensive end. You can see why I thought this was a story about an underappreciated college player. Though ability to get to the quarterback would trump size in today's game, it's hard to blame GM's for not foreseeing the Era of the Undrafted Kent State Player.
The Steelers took a chance on him . . . sort of. He was cut three times by the Steelers and once by the Ravens (random). While he still had all the talent from high school, he was haunted once more by his inability to study. Teammates said he would give up on plays he didn't know and actually ask his coaches to take him out. At one point he even found himself exiled to NFL Europe.
By the way, the team he played for in NFL Europe was called the Rhein Fire, and I declare that the coolest name in the history of sports!
No Problems Over 30
By the time he was 26, Harrison was seriously considering retirement. He had even fleshed out plans to become a veterinarian. A freak weight room accident sidelined Clark Hagans and Harrison stuck around. For his first few seasons he was primarily a special teams player. When Mike Tomlin took over the Steelers, Joey Porter was cut. This opened up a spot for Harrison.
Harrsion was 29 when he finally became a full time starter. Between 2007 and 2010, he averaged 11.25 sacks, 68.25 tackles, and 6.25 forced fumbles. He finally figured out Dick LeBeau's brilliant, but punishingly complicated 3-4 defense. Once this happened, his natural talent took over. For this four year stretch, he was one of the most feared pass rushers in the NFL.
All of this culminated in his defining moment: the 100 yard interception returned for a touchdown in the Super Bowl. I know I'll never forget it! I was rooting for the Caridnals and was amongst those confident they would be up 14-10 at the half. When Harrison made the interception, it was one of the few times I actually got out of my seat and jumped around screaming like an idiot.
While many players retire in their mid-30's, Harrison stuck around. Though he was not the player of 2007 any more, he still proved more than serviceable. Controversies popped up again. In 2008, he was not cut after a domestic dispute, though a less acclaimed teammate was shown the door. In 2013 he gave his infamous interview where he called Roger Godell a "puppet". Again, think of all the players that would have been taken down by such an interview. Harrison proved immune to this too.
Like he had his entire life, he rose above the adversity. Until December 26, 2017.
A Complicated Legacy 
I'm afraid the whole New England adventure might take up a disprortionate chunk of his legacy. Yes, it was strange. I'm not going to deny it. When I first saw it, part of me was convinced New England had somehow resurrected Rodney Harrison. There was such bad blood between New England and Pittsburgh, it almost would've made more sense Bill Belichick had the 2007 team hidden away in suspended animation. Waiting to unleash them at the opportune moment . . .
All kidding aside, if I were a Steelers fan, I don't know if I could let it go. Sort of like how all Packers fans tell you they're over Brett Favre in Minnesota. But they always say it in a hollow voice with a dead look in their eyes . . . I found the following photo accompanied by the caption "Brett Favre jokes never get old":
My point is, this happens. There are some defections so heinous, fan-bases never get over them. Even though it would have been objectively worse if he had gone to a rival like the Ravens, this was bad. He decided on December 26th to sign with a team everyone assumed Pittsburgh would face in the AFC Championship. Not to mention, the team that had beat them the year before. And it was New England. A team most fans assume are up to some nefarious trick (like only bringing him on board to learn the Pittsburgh plays).
Maybe the anger over the loss to the Jaguars will draw away enough of the anger. I think this would be misplaced as Jacksonville was a very good team, but if that's what it takes, so be it. Whatever drove him to New England should not tarnish his legacy. Especially not in a city like Pittsburgh that values loyalty and hard work.
As fans, we owe it to ourselves to at least know the gyst of the full story. It is unique tale. At any point, this story could have abruptly ended with, "his dream was over . . ." Somehow it kept going. Somehow he kept going.
As he retires, this is what I hope we all remember.