Every year it seems like Paxton Lynch gets a little worse. A little less athletic, a little slower to see the field, and a whole hell of a lot better at Call of Duty.
Saturday night may have been the worst game we've seen out of the third-year quarterback/dabber/pirate out of Memphis. At half he was 4/9 for 12 yards and one interception. Austin Traylor may be able to file charges after that seam pass that turned him into a Bronco sandwich in the first quarter.
Is it better than crying on the bench in Oakland? I really don't know. Other than he's not good enough to even back up Case Keenum should God laugh in our faces and cause him to miss any time.
The guy who does look like he can do that? You guessed it baby.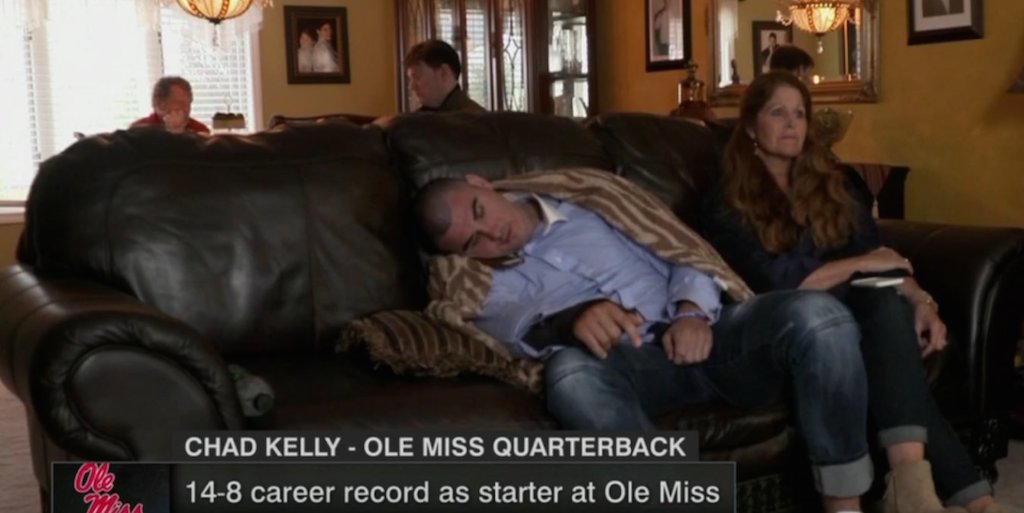 That's right, potential Rookie of the Year candidate Chad Patrick Kelly.
Everything that Lynch was lacking as a passer, Kelly had in spades. He was firing the ball down the field, using his athleticism when the play broke down (when it actually broke down, not when the first read was covered). He tossed a wide open touchdown pass to Matt LaCosse, and then a really impressive TD pass under pressure to Phillip Lindsay.
🔥 Chad Kelly ➡ Phillip Lindsay 🔥#BroncosCountry #NFLPreseason #Week1 #MINvsDEN pic.twitter.com/0zrmAcNj2D

— Orange Crush Brasil (@OrangeCrushBR) August 12, 2018
I'm not going to say Chad Kelly is the second coming of Johnny Unitas (although their releases are EERILY similar)…
Look, I'm just saying, it's more than a little uncanny. Maybe Johnny had a long weekend in Atlantic City, one thing led to another, and — alright I'm going to stop myself before I get sued.
The point is that Kelly balled out in his first NFL action (albeit against third and fourth stringers) whereas Lynch went backwards.
It's high time the Broncos did the right thing and made Chad Kelly the second-team quarterback. For the good of the team, for the good of Kelly's development, and for the good of Paxton Lynch.
I get that the Broncos have a fuck ton of money tied up in Lynch, but it's not an excuse to put the team at a disadvantage. Guys like River Cracraft, Austin Traylor, and Courtland Sutton who were getting hospital balls thrown their way are probably dying to get some snaps with Kelly instead of Paxton "Involuntary Manslaughter" Lynch.
Having Lynch in with the second-teamers gums up the whole machine, if you catch my drift. Guys that desperately need the reps and targets are forced to accommodate a QB who's clearly not capable of running the offense.
Do the right thing, Vance. It's football malpractice if he doesn't look at the tape from this last weekend and come to the conclusion that Chad Kelly is already better than Paxton Lynch. It wouldn't be the first time that he's put a seventh rounder in front of him on the depth chart, so what's to stop him from doing it again. Besides, oh…
You can't be held hostage by your past mistakes forever. At some point you have to cut your losses and admit defeat before it swallows up the whole operation like a black hole.
Man, doesn't it feel like this throw was a lifetime ago?