Part of me wondered a few months ago if I was being too harsh on Jon Gruden. I've always admired him. My fear was that the game had passed him by and that he would be too intense for the modern NFL. "Maybe he's slowed down a bit," I thought after publishing my article, "maybe this time he'll be a bit calmer and a bit more flexible".
Then Saturday morning a quick Google search brought me to couple of articles in which his players describe his "twenty cups of coffee a day" habit. So, no, it does not appear he has calmed down. He's still Jon Gruden. Let's start there . . .
Jon Gruden is Still Plenty Old School
I don't have any context for this photo, but knowing Gruden this could be a reaction to any question. Ranging from "has the game passed you by?" to "how are you feeling today?" Outside of his consistent coffee addiction, the other main theme from the player interviews is his "in your face" style. That hasn't changed. Not that I expected it would change entirely. Every time I heard him go on one of his Monday Night Football rants, I was reminded of the pervasive road block in the country as a whole. Gruden, like many Americans, seems to desperately want to get back to "the old days".
If you want a good example of a classic "old school" move, look no farther than drafting Kolton Miller with pick 15. I'm not saying Miller isn't going to be a good player, I just think there were better picks they could have made in that spot. Or if they knew they wanted Miller, they could have traded back and added mid-round picks. I refuse to believe no one called them when Derwin James fell out of the top ten.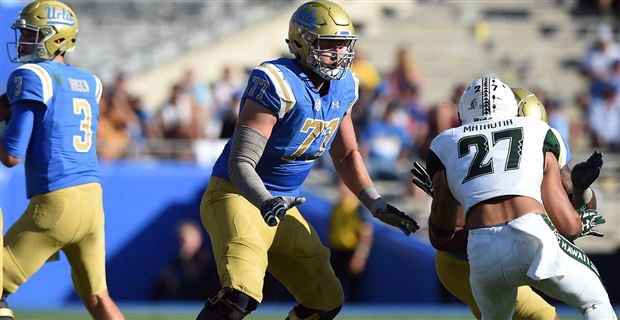 From a physical perspective, Miller is a solid draft pick. He even fit a need. Donald Penn is a great tackle who hit age 35. His clock is ticking. Miller needs a lot of coaching, however, before he's ready to take over for Penn. He also might project better as a right tackle and not a left tackle. If his footwork does not progress, he might need to move to guard.
"If" and "might" are not what you want to be talking about with pick 15. Not when the Raiders struggled in the defensive backfield so mightily last season and they could have drafted James or Jaire Alexander. Seriously. They were sitting right there! Gruden took Miller because I'm sure he believes he can "coach him up". Maybe he can. But you don't take players like that in the first round when there are two plug and play players at your other position of need. This is even more concerning when you consider that they took Brandon Parker in the third round. Now they have two project tackles and no elite defensive backs.
As much as he may hate it, draft valuation is a thing. Though it may be a "new age" concept Jon Gruden would do well to learn about it. Lest he run into never-ending cap trouble like he did in Tampa Bay.
The Anti-Youth Movement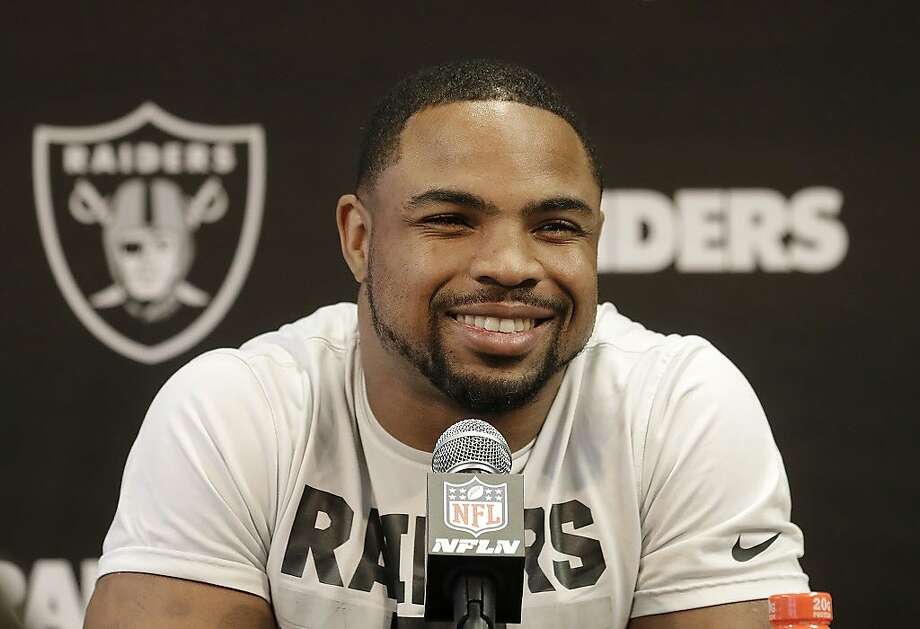 It truly pains me to sit here and start speaking poorly of Doug Martin and Jordy Nelson. Please note my critiques here are all about Gruden, not the players I'll discuss. Having said that, I don't know Gruden was thinking going after both Martin and Nelson. If this were 2013-14, I would be praising him. Alas, the calendar in the corner of my laptop insists it's 2018, so there shall be no praise.
Okay, enough joking around. Gruden can try to sell these signings with the old, "I want professionals in my huddle" argument. I understand the need for veterans. Clearly they still do too because their starting running back for next season looks it will be Marshawn Lynch. Lynch is 32. So they were already set in the veteran running back department without the 29 year old Martin. Especially when they could have pursued Isaiah Crowell (25) or Carlos Hyde (26). Both offer far more upside than Martin, particularly on the injury front.
The same rings true for Jordy Nelson. He will likely go down as one of the all time underrated wide receivers. Some of the past passes of the last decade have been Aaron Rodgers to Jordy Nelson on a back-shoulder fade. So, if the Packers were willing to move on, it seems likely Nelson's career is entering the "old gunslinger riding off into the sunset" phase. There were plenty of other receivers in the 24-27 year old range on the market. Maybe they haven't reached the peaks Nelson has, but they also don't come with the injury baggage. And no, please do not say "well, but Martavis Bryant". He comes with all kinds of more concerning baggage.
Valuing players entering the prime of their careers more than their veteran counterparts is a "new school" attitude. However, like avoiding first round project players, the rationale is not theoretical. It just makes more sense. 
We Still Need to See His Offense 
The saving grace for Gruden is exemplified in the gif above. If I had to pick one quarterback for him to build his offense around (outside of Brady and Rodgers, of course), I would pick Derek Carr. The gif above shows all the poise and accuracy required by the offense Gruden once ran. Carr goes through his progressions nicely and throws a picture-perfect deep slant route. Since all of his other moves have done nothing to suggest Gruden is going to change his methods, the Raiders are in for an intense training camp learning his classic West Coast attack. Sure, there are still a few teams running the West Coast Offense. Another new coach Pat Schurmur will be implementing it in New York.
Many of the old West Coast coaches, however, are embracing more spread concepts. Mike McCarthy and Andy Reid have bridged the gap between West Coast and Spread with great success. My hope is that Gruden will at least consider it a little. As the years go by, there are going to be fewer and fewer players coming out of college that will be able to handle the transition. More importantly, letting Derick Carr throw from the shotgun could help keep him protected a bit more. I'm not saying Gruden needs to abandon everything he used to run, I just hope he's not so rigid with his play designs (I'll be expanding on this concept later on in the week).
I like Jon Gruden, I always have. I hope he proves me wrong. It just doesn't seem likely unless he's willing to adapt his coaching style. Things change, they always have. While sitting back and bemoaning how "it used to be" may feel cathartic, it does nothing to help move forward or even to operate in the present. Remember to move forward, Jon, please remember to move forward.