Well, it's official. The Cleveland Browns are going to follow up their 0-16 "season" with a turn on Hard Knocks. As I still am not entirely sure how I feel about that, let me take you behind the scenes of my internal dilemma . . .
A True Internal Conflict
I'm not joking. I genuinely do not know how I feel about this. Even as I sit here, there's a battle raging inside of me. For you see, as much as I tell myself it's all going to be worth it if they ever win a Super Bowl, my fascination with the Browns is at least 50 percent pure academic curiosity.
Like a zoologist exploring an uncharted jungle, I find myself memorized by all the different flora and fauna of incompetence found in the typical Browns' season. This is dangerous because every season I also always enter Week One somehow convinced "this year will be different". Remember my article about the Candy Corn Principle of NFL Market Valuation? It is the same phenomenon. The Browns are my candy corn.
Take last season for example. When they cut Brock Oswieler for Deshone Kizer, I was confident. I assumed they would run the ball two thirds of the time, only asking Kizer to throw just enough to keep the defense honest. Even when he did throw, I assumed it would be primarily on bootlegs. Don't forget about all the screens and quick throws to Duke Johnson, I told myself. This could be a surprisingly good offense . . .
Never in my wildest dreams did I think Hue Jackson would be stupid enough to ask Kizer to carry them with his arm. Yet there I sat week after week watching a 21 year old rookie who had fallen into the second round (because everyone knew he wasn't polished enough) drop back over and over again. At one point during their game in London, I actually started shouting, "RUN THE DAMN BALL". 99.9% of the time I am logical enough to know no one's voice can carry across the Atlantic. Emotion, however, took over and I completely forgot that rudimentary fact.
 Emotion and the Brown's Sad History 
It's not going to be easy, but I am going to watch every episode. There's no way HBO is going to skimp on the Browns' never-ending highlight reel of misery and stupidity. Like most Browns' fans, this is a tale I know all too well. Would it be too much to just provide a web link for other viewers?
It won't just be Hard Knocks. An 0-16 season is already enough for ESPN to have plenty commentator reading Browns' history over sad piano music clips ready to roll. Now that they'll have weekly updates on how much John Dorsey loves Baker Mayfield, they're going to engineer a quarterback controversy. If for no other reason then a pleasant seg-way into a slideshow of all the other quarterbacks that have donned a Browns' jersey.

If the Browns' descend into another quarterback controversy, be it real or imagined, I don't know if I can handle it. It kills me even now to think about all the times they've made poor choices with their quarterbacks. Why didn't they let Ty Detmer play the whole expansion season? Did they really think it was a good idea to play Tim Couch on a team with little to no talent? Why didn't they just trade him when Kelly Holcomb surpassed him? Why Jeff Garcia over a young Big Ben? Why keep Quinn when Anderson emerged? Brandon Weeden and Johnny Football? Seriously?
Ugh. You can imagine, I'm sure, why repeatedly being reminded of these follies is not appealing to me . . .
Academic Curiosity and the Haslam Hypothesis
But, still, I will watch. I must know if the folks at Hard Knocks can confirm some of my suspicions about the Browns. Namely my primary hypothesis that fault lies in the owner's box. The recent years of misery seem to be fueled by the reckless actions of Jimmy Haslam. He, like El Jefe Naranja himself, has always struck me as too impulsive. Too quick to anger. A bit of a con artist with a shady business history and an extremely poor grasp on things he claims to know more than anyone about. And, worst of all, content to blame others for his mistakes (though admittedly nothing as horrifying as blaming recently deceased people for one's own failed casinos . . . look it up).
Never forget he pushed for Johnny Football when the front office and coaches wanted Teddy Bridgewater or Derek Carr. Then he dumped Pettine when it all went bust. He also charged in to fire Mike Lombardi and ended up firing Joe Banner in the same meeting. Imagine being Banner. He's told, "let's go fire Lombardi". Then the next thing he knows, Haslam has fired him too. Haslam promised Sashi Brown that he understood how long it would take to completely overhaul the roster. Then Hue Jackson (who made the same claim) cried about the lack of talent he was never promised and Haslam fired Brown.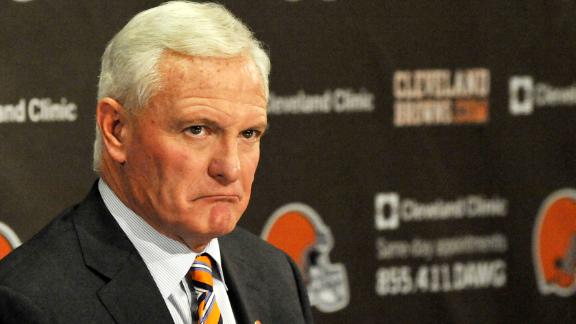 If the theory I've been working with is correct, then Haslam won't be able to escape all of HBO's cameras. They will catch him interfering. We may finally get a real look at the reckless lack of understanding that has resulted in firing after firing. And even if it is not overt, it may still be there. If he is present in team meetings or skulking around the sidelines the whole time, that's a sign. There's being a proactive owner and there's detrimental interference. This is a very fine line I don't believe Haslam understands.
Though it is no longer en vogue, I would be more than happy to apologize to Haslam if this not the case. Perhaps the franchise is simply unlucky or the coaches have failed to properly plan every season. I just can't see that being the case. I look at the Mount Rushmore of NFL Franchises: Pittsburgh, New England, Green Bay, and Seattle. What do I see? I see the same coach, the same quarterback, and a real plan on both sides of the ball. Maybe they don't always work, but consistency reigns supreme.
Then I look at the Browns. I see a revolving door at every position on the field, every position on the coaching staff, and every position in the front office. I see only one constant: James Arthur Haslam III. I refuse to believe this is a coincidence . . .