During the off-season five coaches went from the hot seat to the unemployment office. With training camp right around the corner, let's take a look at five coaches who might suffer the same fate at the end of this season. Turnover rates in the age of "win now, win now, win now" are rising to a surprising level. Going back through the firings over the past decade, I was able to pull out a few trends.
The coaches included in this list embody one of those trends. Since I was coincidentally watching David Fincher's masterpiece Seven as I was researching, I've decided to call these trends The Five Great Sins of NFL Coaching. In case you're wondering, it's five and not seven because I didn't want anyone falling into an allegorical wormhole and trying to make connections to the actual Deadly Sins.
Each coach I'll discuss is probably guilty of multiple sins. But each has one nagging sin that in the absence of winning could ultimately lead them to termination. Never forget, in the NFL winning heals all wounds and covers all sins. Take away the wins and each coaches' sin is exposed to judgement (out of curiosity, is it clear I was raised Catholic yet?).
Hue Jackson-Cleveland Browns
Record: 1-31 (2 seasons)
Great Sin: Calling his own plays with an inexperienced roster. 
It's not the record, as hard to believe as that may be. The way the previous front office gutted the team, no one is surprised the Browns have struggled. Instead it's the way Jackson has coached the team. Starting with the fake punt against the Eagles in Week One of 2016, Jackson has made some very questionable calls. Last season his refusal to run the football and knee-jerk quarterback moves were a huge detriment.
The Browns need to show immense improvement in their overall record and cohesion. Todd Haley's arrival should alleviate some of the pressure on Jackson. It's hard enough coaching a team bereft of talent. It's that much harder to coach such a team if you're also trying to call plays. As the Browns started losing, Jackson often panicked and went into a vertical attack inconsistent with his game plan.  As his neck is not on the line, Haley should remain more composed and Jackson free to manage the game.
New GM John Dorsey is not beholden to Jackson. He has more than answered Jackson's call to put "real football players" on the roster. If the Browns fail to win more than 5 games this season, look for Dorsey to find a new coach just in time for the Baker Mayfield Era . . .
Jay Gruden-Washington Redskins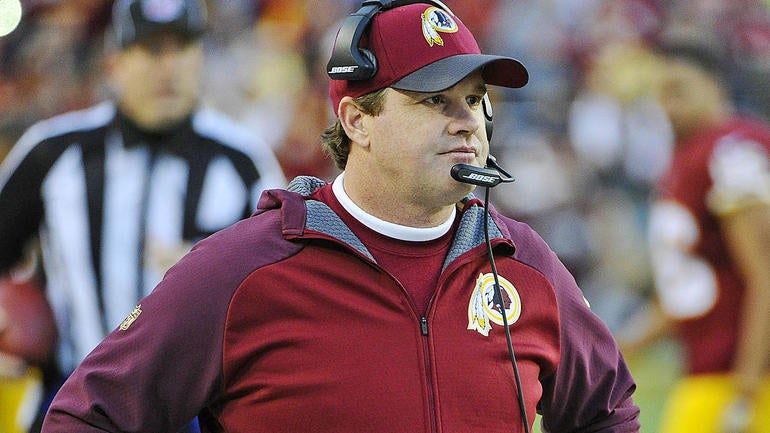 Record: 28-35 (4 seasons)
Great Sin: Being head coach in Washington. 
I'm not even being sarcastic. The only thing Jay Gruden has done to find himself on the hot seat is agree to coach Washington in the first place. I feel like everyone is so distracted by whatever nonsensical hi-jinks are taking place in Cleveland at any given moment, that they've forgotten all about Daniel Snyder.
The owner, whose tenure has overseen a 132-171-1 record and multiple quarterback changes, just let another quarterback go. I'm not going to sit here and pretend Kirk Cousins is the next coming of Tom Brady, but how do you let him go? RG III's knee injury could have sparked another rebuild, instead Cousins brought stability. Alex Smith is a good quarterback in his own right, it's the five year age gap that's troubling. Especially considering Cousins only signed a three year contract and while the money is high, since when has Snyder been afraid of cutting checks?
If the Smith experiment fails, Snyder isn't going anywhere. Nor will he go anywhere if Cousins leads Minnesota to a Super Bowl. He'll blame it on Gruden, then show him the door. In order to prevent this, Gruden needs to somehow eke out 10 wins this season in a division with Philly and Dallas. Yikes.
Jason Garrett-Dallas Cowboys 
Record: 67-53 (8 seasons)
Great Sin: Failing to advance in the playoffs with perpetually high expectations.  
I feel really bad putting Jason Garrett on the list. Like Gruden, he has to deal with wild inconsistency coming from the owner's box. He's also had the bad luck of coaching Tony Romo through his injury riddled final seasons. Even when his teams have looked primed to make a run in the postseason, they've run into an on-fire Aaron Rodgers.
Eventually something has to give. Even though his top two receivers from last season are gone, Garrett still has one of the best offenses in the NFL. Dak Prescott and Ezekiel Elliot have a formidable line in front of them. Both should be poised to take huge steps forward in their third seasons. As Garrett is an offensive coach, a lot of that relies on him crafting an effective scheme.
The Eagles may be vulnerable as Wentz returns from his injury, the Redskins are a wild-card, and the Giants in flux. If Garrett wants to secure his job, he needs to win the division. Then he needs to make a real run in the postseason. This will not be easy. In my earliest projections, I can see their path going back through Green Bay, the bane of Garrett's coaching life. If he loses to them again or fails to even make the playoffs, Jerry Jones is going to move on. As, in his mind, it's still 1995 and the Cowboys are a perennial Super Bowl contender.
John Harbaugh-Baltimore Ravens
Record: 94-66 (10 seasons)
Great Sin: Losing momentum after a Super Bowl win. 
Harbaugh should take a page out of Tom Coughlin's book. All he needs to do is win another Super Bowl and he'll be left alone. Seriously. Coughlin won two Super Bowls, following both up with mediocre performances. Even if the Giants' front office wanted to fire him (which they did before both the '07 and '11 wins), how could they? He won two Super Bowls.
Failure to do so would leave Harbaugh, ironically, in the same spot as the man he replaced, Brian Billick. Both rode great Baltimore defenses to Super Bowl wins and both, thus far in Harbaugh's case, failed to do much afterwards. The Ravens have missed the playoffs four of the last five seasons. Last seasons the offense seemed lost. The hot seat grows hotter.
Of all the coaches on the list, Harbaugh has the best chance of surviving the hot seat drama. Big Ben will retire soon, the Bengals could be looking at a rebuild in 2019, and the Browns are, well, the Browns. Baltimore has a three year window to get back into the playoffs. They also have an exciting young quarterback in Lamar Jackson.
I, for one, believe he's the real deal. With Joe Flacco making one last run at another title, Jackson has time to learn the NFL game. He should be ready just in time for the AFC power vacuum that follows Tom Brady's retirement. If he can make the postseason this year, Harbaugh should be around the reap the benefits. If not, he might find himself replaced by a young offensive wunderkind brought in to maximize Jackson's potential.
Marvin Lewis-Cincinnati Bengals 
Record: 125-112 (15 seasons)
Great Sin: Poor game management in the playoffs. 
When Kimo von Oelhoffen barreled into Carson Palmer's knee, it was easy to forgive Lewis for the loss. Since Palmer did not return to the field the same player, it's not hard to fault Lewis for failing to make a run during the remainder of the Palmer Era. When he was gifted both AJ Green and Andy Dalton, that should have been the start of something great.
Instead the Bengals have fallen into a pattern. When they make the playoffs, Dalton struggles and they lose. It's not like they lose to New England every year either, they lose to teams they should beat. In his four playoff appearances, Dalton has thrown the ball 42, 30, 51, and 35 times. This is a team based on power running and strong defense. He's not supposed to be throwing that much. But he must.
Year after year, the Bengals hang tough or hold a lead at half-time. Then, for reasons unknown, they come out and fall flat in the second half. As the deficit grows, they get more desperate. Opposing defenses know all they have to do is fall back into coverage and wait for Dalton to make a mistake. As this keeps happening, you have to to wonder if Lewis is making any half-time adjustments and, if he is, why they never seem to work. How can Dalton go from an above-average quarterback in the regular season to a disaster every postseason?
As with Harbaugh, Lewis needs to take advantage of Big Ben's imminent retirement. He needs to make the playoffs and he needs to finally win a game. I admire his resilience. I admire how he never blames his players. Even when, looking at you Vontaze Burfict, no one would fault him for doing so. Good will, however, can only go so far. He needs to win a playoff game. Or else he'll be forever stuck in NFL lore with the dubious honor of never having won a single playoff game in almost two decades coaching the same team.