I clearly wasted too much time and money on journalism school, because some random dude on Instagram just got the scoop of the offseason, and he doesn't even use AP style like a true journo. How did he do it, you ask? Well, he just asked Dez Bryant who he wants to play with, and Dez answered.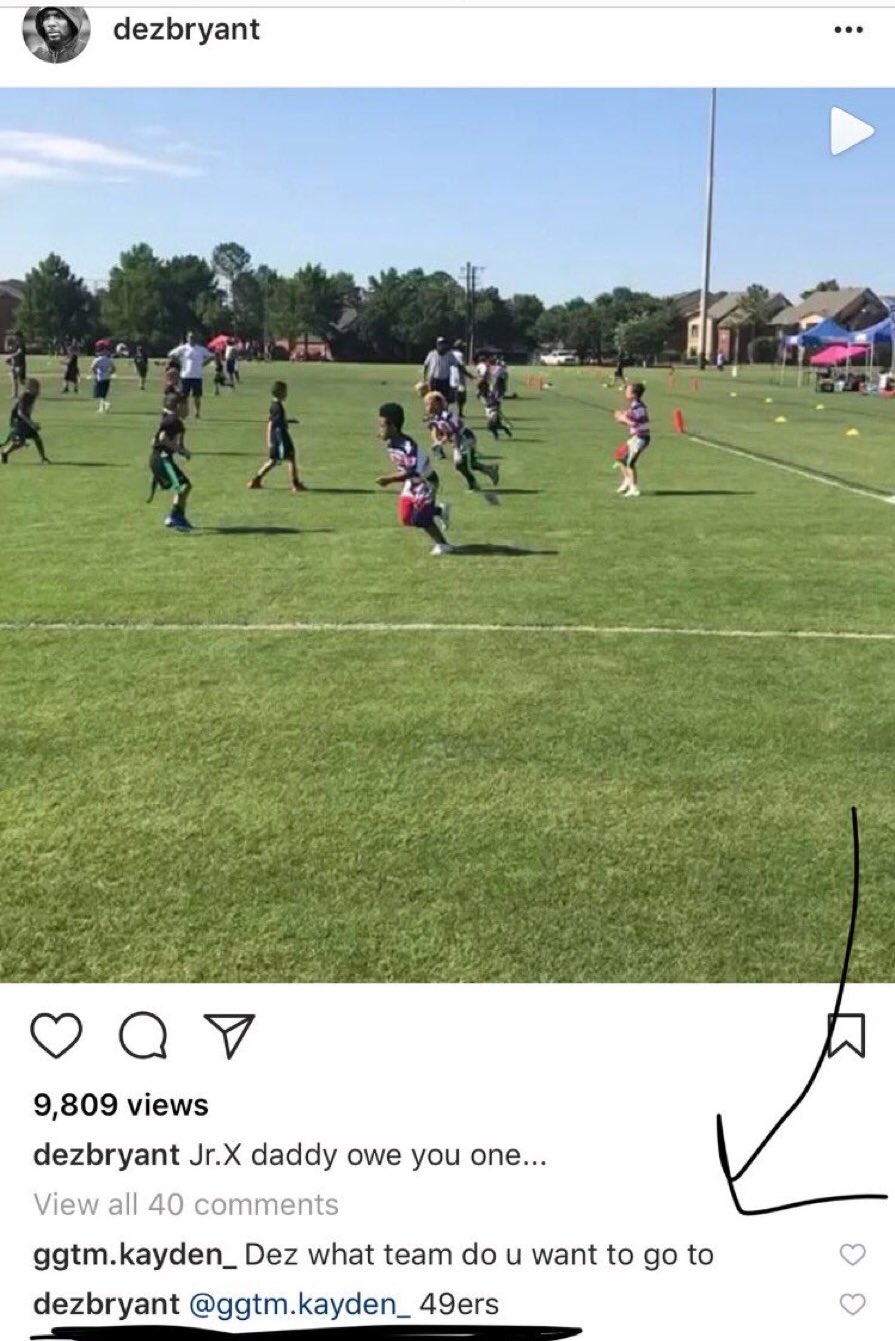 (H/T @MySportsUpdate)
Chris Mortenson, Adam Schefter, Ian Rapoport —all thoroughly scooped by @ggtm.kayden. Just absolutely taken to task by this dude Kayden.
Dez shortly deleted his answer, but it's the internet, and nothing truly goes away (keep that in mind when applying for jobs).
A pretty good choice by Dez if I may say so myself. San Francisco has one of the best young quarterbacks in the league with Jimmy G., and an offensive-minded head coach who can devise a few ways to get the ball in Dez's hands.
For all of the 49ers newfound strengths, they're still lacking a true number one wide receiver. I'm not entirely sure that Dez is still that at this point in his career, but it would be worth finding out if they can get him on a team-friendly deal.
Jimmy G. (because I don't want to look up how to spell Garoppolo all the time) has a little bit of Tony Romo: handsome as hell, quick release, and from Eastern Illinois. It seems like having Dez on the outside would be nice for his development. Also, why pay a quarterback almost $30 million per year if you're not going to get him some guys to throw to?
This really got me wondering, though — if Dez answered this question on Instagram, what else would he be willing to divulge?
Does he know any national secrets that he might share with the public?
I thought I might investigate:
Hmm. No answer on this one. Dez doesn't strike me as an "Oswald acted alone" type of guy. I expect he would point to the CIA on account of Kennedy not giving them any air support during the Bay of Pigs.
Moving on to the next question:
I'm really curious about what Dez will say about this one. There's a fairly popular theory that Stanley Kubrick filmed the fake moon landing and secret apologized for it via clues that were hidden in The Shining.
And, finally:
Dez's silence is particularly deafening on this one. But then again, perhaps the answer lies in the question. Or the fact that I spent my Memorial Day spamming a free agent wide receiver's Instagram. Who's to say?
Truly three of the most baffling questions of our time. Hopefully he answers, but I think Dez will probably block me instead. Hey, maybe if he blocked a little harder for Ezekiel Elliott he would still be on the Cowboys.