The Houston Rockets were really the only team that had a chance to beat the Golden State Warriors last year. They might have done it, too, if not for Chris Paul getting injured late in the Western Conference Finals.
The Warriors went out and added DeMarcus Cousins, perhaps a top three big man in the NBA, to a lineup already flush with two MVP's and two other All-Stars.
So the Rockets went out and did the next best thing…
…and signed this guy to put them over the top.
That's right, they signed Carmelo Anthony to a one-year deal. The guy the Thunder couldn't wait to get rid of. The guy the Hawks acquired and then summarily dumped like a hot potato despite absorbing his $27.9 million salary like radiation poisoning. The guy who shot 40 percent from the field last season and still decided it would be a good idea to take the third most shots on his team.
Yes, the guy that almost put Jeff Hornacek in an early grave by saying "fuck you" to his offense and turning every possession into a masturbatory isolation fest.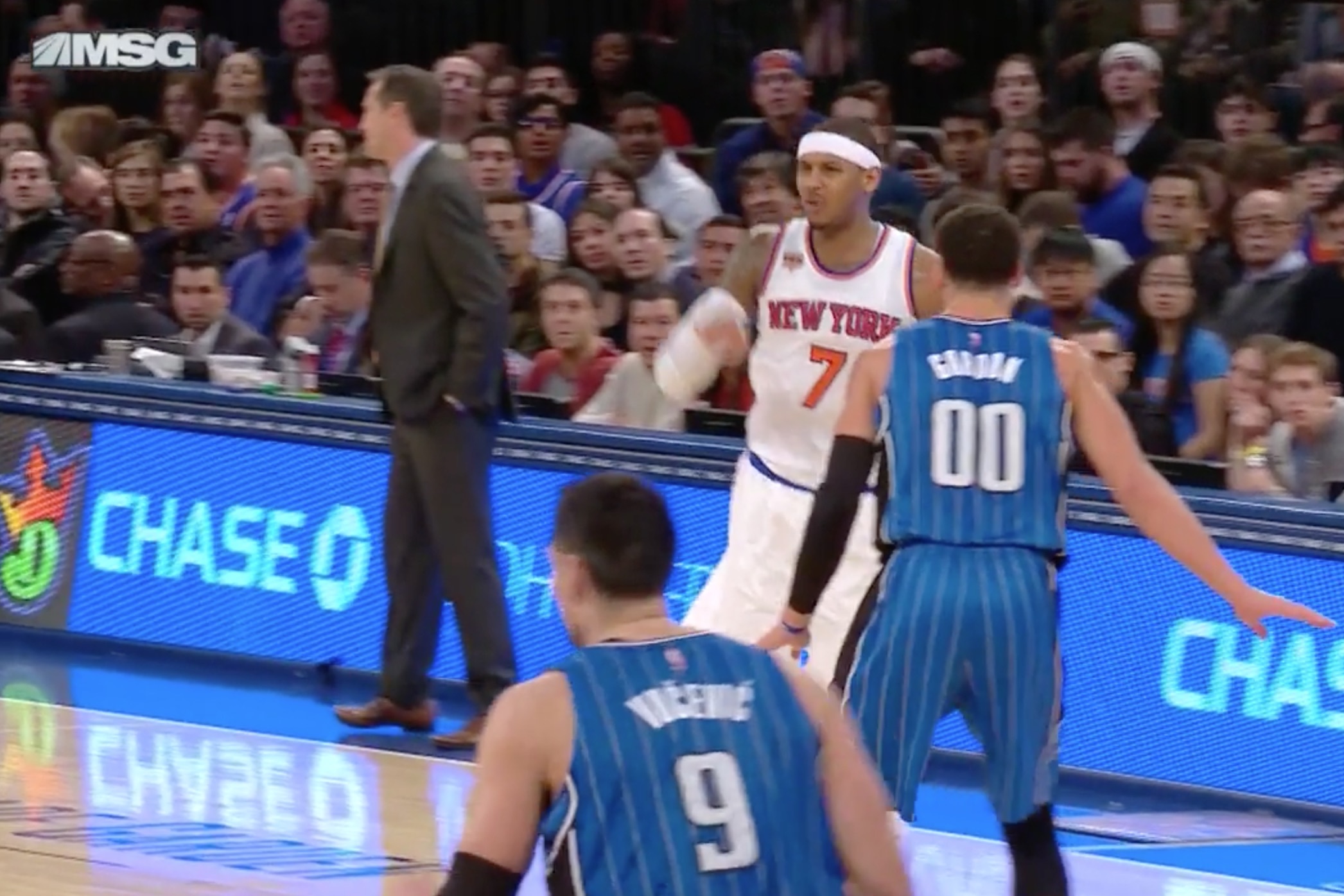 Look! He can't even bear to watch!
Carmelo Anthony is going to take the league's most dynamic, versatile offense and turn it into a garbage disposal of any and all progressive basketball philosophy.
The Rockets were an all-time offense in 2017-18, ranking second in offensive efficiency (112.2), just behind Golden State (112.3). Their true shooting percentage (a combination of field goal, three point, and free throw percentage) was also second behind Golden State by just .04 percent, and their defensive efficiency was also sixth overall, which is absurdly impressive for a team with that much offensive firepower.
Meanwhile, in 2017, Carmelo Anthony ranked out like this compared to his teammates on the Oklahoma City Thunder:
Field Goal percentage: .404 (13th)
Effective field goal percentage: .476 (15th)
Offensive plus/minus: -1.9 (13th)
True shooting percentage: .503 (13th)
VORP (value over replacement player): -1.1 (17th)
You don't have to be Bill James or Bill Simmons to see that Carmelo Anthony fucking stinks, and trying to fit him into the Rockets' well-oiled machine is like fitting the squarest of pegs into the roundest of holes.
Maybe Carmelo can accept, in this late stage of his career, that he isn't meant to take on such a large role for a team. Maybe he can help a team by coming off of the bench. Maybe he can learn that sometimes, in basketball as well as life, less is more.
WRONG.
Carmelo Anthony says he will NOT come off the bench:

"I know how to play this game of basketball, I'm not going to do that". pic.twitter.com/RB159TXRTs

— Hoop Central (@TheHoopCentral) July 26, 2018
Oh great, that's precisely what you want to hear from a basketball player as antiquated and inefficient as a Walkman CD player.
This is the sense of entitlement that you shouldn't have when you were, at best, the 13th best player on your team last season.
The Houston Rockets are the only team still within striking distance of the Warriors (if anyone still is) and they're actively making themselves worse this offseason by adding Carmelo Anthony, who really hasn't been an asset since he was with the Nuggets and had guys around him like Chauncey Billups who would actually hold him accountable.
He probably thinks he's doing the team a favor by signing for the veteran minimum when in fact he's only in this situation because the Thunder and the Hawks played keep-away with his absolute tire fire of a contract.
I ask you this, oh kind reader: What the fuck are the Rockets doing?
They're making this easier for the Warriors, a team that's cake walked to the Finals four straight years. Why not actively try to compete with them when you took them to seven games without Chris Paul last season?
Carmelo Anthony is the basketball version of a terminal disease, and the Rockets are letting themselves die.