I'll get to the rest of the draft in the coming weeks, I promise. For now you'll have to indulge me and read another Browns' article. Don't worry, I'll meet you halfway and frame this one as an examination of the players teams find in the later rounds.
Round 4, Pick 5: Antonio Callaway, WR/KR
This is my absolute least favorite kind of pick. It's the Grab a First Round Talent with Character Issues and Then Try to Justify It to the Local Media pick. On the field, Callaway is perfect for the Browns. They need a guy who can stretch the seam from the slot; Callaway is a slot receiver who ran a 4.41 40 at the combine.
Off the field, he's a train-wreck. As I was researching him, I started to not care about his skills on the football field and wonder if he would even make it through training camp. He turned in a deluded urine sample, had a sexual assault allegation at Florida, and was involved in a credit card stealing scam. It is no wonder he fell to the fourth round.
I'm not here to pass judgement on Callaway. Honestly, the Internet makes it impossible to have any idea what happened in each of these situations. I've see 20 different versions of each event. So, there's nothing I can say that will offer even the slightest bit of insight into Antonio Callaway's life.
All I can say is I don't know why John Dorsey would add him to a receiving core already featuring Josh Gordon and Corey Coleman. At the very least, failing a drug test he knew was coming whilst also knowing he already had character concerns, shows he has poor judgement. Carrying one player on a roster you have to watch like a hawk is a risk. Two is foolish. Three on an 0-16 team . . . I honestly can't think of an adjective able to convey the stupidity.
Round 5, Pick 13: Genard Avery, LB
This was my favorite pick on Saturday. Avery is an elite run stopper with a lot of speed. He had 22 tackles for loss last season. He fell to the fifth round because he is not very good in coverage. That's OK though. The Browns don't want him covering anyone. He is coming in to stop the run.
Similar to Chad Thomas on the line, Avery will be used on first and second down to spell the other linebackers. Avery is the classic I Know He Can't Do X, But Have You Seen Him Do Y? pick. If he could play coverage, he would have been selected much earlier. If the Browns were to start him this season, he would get burned on passing plays.
None of that matters. The Browns, for all their flaws last year, did have a solid line-backing corp. Christian Kirksey is even one of the better cover linebackers in all of football. All Avery has to do is play a little special teams, keep the starters fresh for the fourth quarter, and spend every other second learning how to play coverage.
Round 6, Pick 1: Damion Ratley, WR 
Damion Ratley and Simeon Thomas are the classic Project Players With Tantalizing Size and Speed. These guys usually stick around the league for four to five years, minimum. Even if they don't pan out for their first team, someone will always give them a chance. When they do pan out, it's usually with rebuilding teams in dire need of depth. The Browns, basically.
Either one of these guys could see serious playing time this year as both fit pressing needs. The Browns could desperately use another deep threat on offense. Whenever an offense is built around running and short passing plays, a deep threat is paramount. Even if that guy only sees three passes per game, it's enough. The defense just has to be scared of a possible 60 yard touchdown. Whether it comes to fruition or not is irrelevant.
Josh Gordon could fit this role, but he's too good of a receiver to be a one trick pony. Corey Coleman is already a deep threat, though again, the Browns need him to do more. Enter a player like Ratley. He's not much of a route runner as he's coming from the "Throw it Down Field and See What Happens" Texas A&M offensive system (if you can ever call it an offensive system).
It's going to take him a while to learn the complexities of the NFL game. He still can run down field faster than most defensive backs. Once he steps on the field, defenses must be wary of his speed. Therein lies his value and the value of finding players like him deep in the draft.
Round 6, Pick 14: Simeon Thomas, CB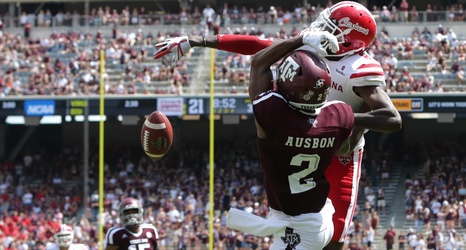 It's the same story for Thomas. He's also extremely raw. Does it matter? No, it does not. 6'3″ cornerbacks with top end speed are an extremely rare commodity. Never forget, the Seahawks built the Legion of Boom by finding bigger defensive backs in the later rounds.
If they are so valuable, why do they fall? That's a very good question. Many times they fall because many of these players have only ever been asked to stand deep and use their size to make plays. That doesn't fly in the NFL and so teams often must break down horrible habits these guys have picked up. Sometimes that can take so long, a new regime arrives and refuses to hold the roster spot.
For this season, Thomas can hopefully contribute on special teams where his speed will be an asset on punts and his height an asset on field goal defense. If he takes to coaching right away, perhaps he can help out in the red zone. I'm sure Greg Williams would love to match him up on the goal line with taller receivers.